The Arizona State Fair kicks off with new attractions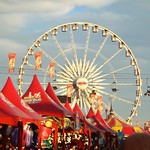 Siti Hajerah, Reporter
October 12, 2019
Hang on for a minute...we're trying to find some more stories you might like.
The exciting, 18-day, Arizona State Fair returned to Phoenix Friday, Oct. 4 and will run through Sunday, Oct, 27.
The annual state fair known for their "fair only" foods, rides, exhibits, appeal to people of all ages.
Other attractions include Monster Trucks, Titan, and Retro Arcade.
A new offering includes an eSports building and tournament competitions.
Brianda Martinez, Marketing Specialist for The Arizona State Fair told North East Valley News on Sunday that fair staff works hard to find the newest thing to bring to the event each year for the guests to enjoy.
"This year, we have eSports. eSports is very popular nowadays. There are people outside in the world winning millions of millions of dollars on this tournament. So, we decided to give it a go, and it's been going good so far. We have The Arizona Lottery eSport stage where those who are 21 and over can win a $100, $500, $1500  and our grand prize of $1500 just by playing a video game, so if you are good at Fortnite or Overwatch or Super Trashed Bros you can come and play and you might go home with $500," Martinez said.
Jane Adjanor, a first-timer attendee to the decades old Arizona State Fair came and enjoyed her visit.
"I live 12 miles away from here and this is my first time and I love it. I love the food, rides, crafts, animals, music, people, I can find pretty much everything in here. I am pretty sure to come back again sometimes this week," Adjanor said.
Here at the fair, visitors have lots of chances to win free money and gifts by playing a variety of games ranging from Facebook contests to pizza eating contests and many other games. The fair guests also have big opportunities to have free admission during special discount days listed on the fair website.
Admission Gates open Wednesday to Sunday:
Wed: Noon – 9 p.m.
Thurs: Noon – 9 p.m.
Fri: Noon – 10 p.m.
Sat: 11 a.m. – 10 p.m.
Sun: 11 a.m. – 9 p.m.
Entrance fee is free for kids under 4, $12 for adults (14+), $8 for Kids (ages 5-13) and $8 for Seniors (ages 55+) Tickets can be purchased at the Arizona State Fair or on its website.