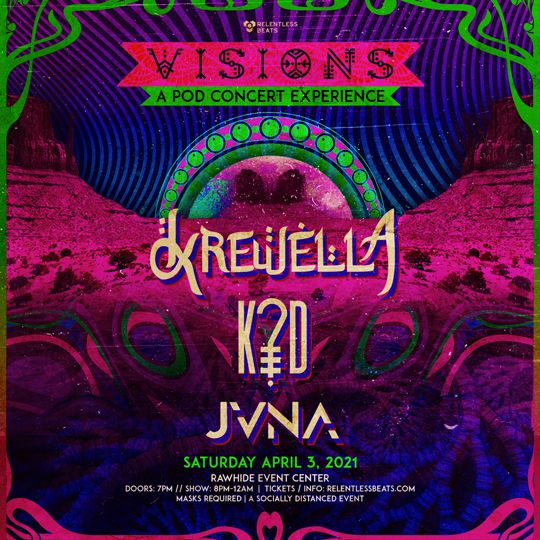 courtesy Relentless Beats
A Relentless Beats event Saturday, April 3 will draw music lovers while observing social distancing safety measures.
The show is at the Rawhide Event center featuring Krewella, K?D, and JVNA.
Doors open at 7 pm and the show will run until midnight.
A pod experience observes socially distancing due to Covid-19.
The "pod" or a section that is six-feet apart features dance space and everyone must wear face masks for the concert. Temperatures will also be taken at the door.
The night begins with JVNA—a talented EDM artist with songs such as "Crazy," At least It Was Fun, and Gurenge.
Muscian k?d-is also a featured guest and moves fans with the focus on electronics with songs such as "BIB" with Steve Aoki.
The headliners KREWELLA— a sister duo will end the high octane evening. Known for their onstage energy the sisters, from Chicago, master electronics with songs such as "Alive", "Greenlights" and "Team."
For more information on set times and where to purchase tickets visit https://www.seetickets.us/event/Krewella-Visions-A-Pod-Concert-Experience/420954