PTK Arizona Region leader beats the odds along academic journey
Phi Theta Kappa honor student Cordero Holmes is leaving his troubled past behind and using it as motivation to succeed
Nothing has been simple for Cordero Holmes.
Nowadays, he is the Phi Theta Kappa Honor Society's Arizona Region leader, but he ran into trouble at a young age. He attended three different high schools in Phoenix, often finding himself at odds with the law and ultimately suffering expulsion.
Holmes eventually earned his GED in 2005, while at Adobe Mountain Juvenile facility. But he did not have many plans after that.
"When I thought about college, I thought it was for guys who played ball," Holmes told Northeast Valley News in an exclusive interview. 
At 20 years old, Holmes was sentenced to 10-and-a-half years in the Arizona Department of Correction. When he entered prison, Holmes had three children already and a fourth on the way. While incarcerated, he began to think deeply about how he could turn his life around, for his sake as well as his family's.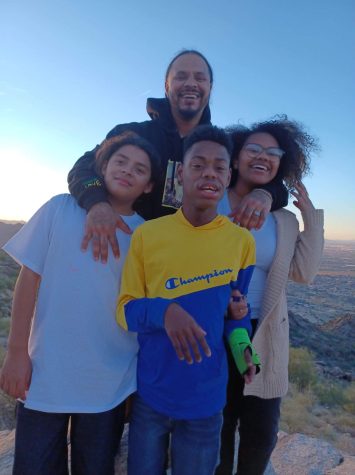 "I remember going through this battle within myself, asking myself 'is this really what I want to continue to do? Do I want to be this person, is this how it's going to be?" Holmes recalled.
Through reading, Holmes found his passion for learning. Eventually, he joined a Rio Salado College program that gave him the opportunity to take a "life-changing" first step. He enrolled in an English class, which encouraged him to read more and helped him to articulate better.
After his release in 2017, Holmes became a full-time student at Rio Salado while working up to 50 hours a week as a day laborer. He also gained full custody of his children, including his first-born son Cordae. Cordero describes Cordae, who was born with autism, as his "biggest motivation."
"I see a lot of myself in him, and I see a lot of him in me," he said.
In 2019, Holmes went back to prison for three months after communicating with a relative who also had a criminal background. This violated his parole. But since his second release, Holmes has been an example of hard work and resilience. 
College is no easy task for any student, and Holmes has embraced the challenge as a way to find his purpose.
"School has opened my eyes to different pathways I didn't see before," Holmes said. "To be honest, the only thing I saw myself doing was robbing folks, selling drugs, and doing the back-and forth-thing (going in and out of prison), because I was so used to seeing older homies go do things like that."
Holmes is currently working toward two associate's degrees, and he is on track to graduate this fall.
View Comments (1)