Chipotle Cultivate Festival delivers more than just food
Cultivate was an event rich with quality eats and music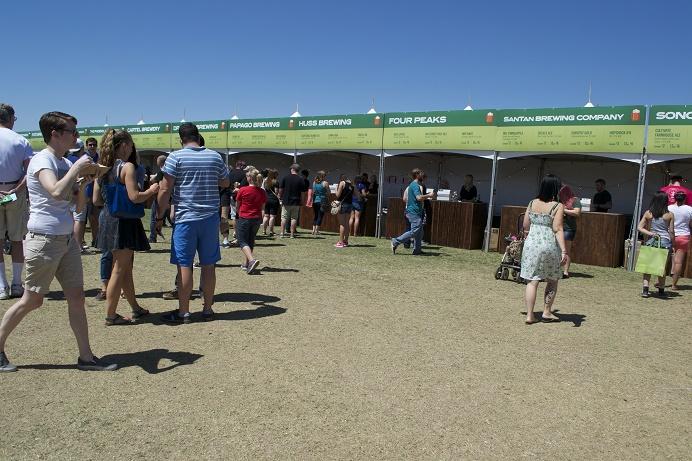 On April 18, Chipotle held its first Cultivate Festival in Arizona. The Cultivate Festival destinations differ each year, and this year the lineup of the three select cities include: Phoenix, Kansas City, and Minneapolis.
The family-friendly event featured cooking demos, live music, and other companies who support the notion of locally-grown produce and respect the animals and land where they come from.
Cultivate's tasting hall featured 14 different breweries including Cartel Brewery, Dragoon Brewing Company, Four Peaks Brewing Company, Papago Brewing Company, The Naked Grape Wine and many others. Chipotle also partnered with Phoenix-based Sonoran Brewing Company to create a "Cultivate Farmhouse Ale," which was available exclusively at the festival.
The chef line-up at Cultivate featured demos by Charleen Badman (chef and co-owner of the award-winning FnB in Scottsdale), Richard Blais (winner of "Top Chef: All Stars" and owner of Juniper & Ivy in San Diego), Amanda Freitag (chef and owner of Empire Dinner in New York City), Joshua Herbert (owner of POSH restaurant in Scottsdale) and Christopher Schlattman (executive chef at OldTown restaurant The Upton).
The Artisan's Hall featured local vendors who offered patrons a variety of artisan-made foods for sampling and purchase. Each vendor was hand-selected by Chipotle for their support to the local community and the environment. The six local artisans at Cultivate included b Naked Chocolates, Cartel Coffee Lab, Super Chunk Sweets & Treats, Sweet Republic, Tracy Dempsey Originals and True Food Kitchen.
Nothing makes a food festival more complete than live music. Chipotle's very own DJ, Christopher Golub, spun between sets to keep fans entertained. Cultivate featured national acts including Jared & the Mill, Magic Man, MS MR, Bleachers and Twenty-One Pilots.
The next destination on tour for the Cultivate Festival is Kansas City on July 18 and Minneapolis on Aug. 22. More details for those locations can be found at chipotlecultivate.com.