Singing along with Yuna Zarai in Mesa
The renowned Malaysian artist gave a rousing performance in Mesa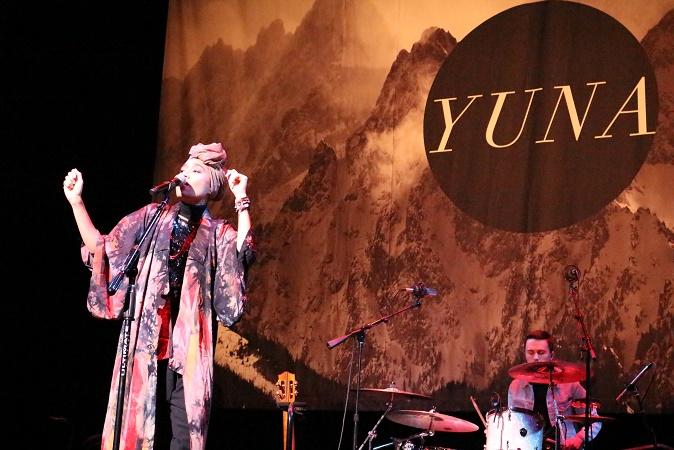 Malaysian singer-songwriter Yuna Zarai entertained her fans at the Mesa Arts Center on March 12. Zarai sang 15 songs, including her famous song "Lullabies." She also sang her Malaysian song "Moon". She opened her performance with single "Falling" and closed with "Live Your Life." This concert was for her sophomore album "Nocturnal."
"I was on tour the whole year last year for Nocturnal and it's really nice to finally able to play here and play all of my songs here for the first time," Zarai said.
Zarai is very happy to get a chance meet her fans in Mesa.
"They were so lovely," she said. "I announced at the end of the show that I would come out and meet everyone and had this long line outside. I'm so glad I did that and met everyone."
Her fans were similarity excited to see her in Mesa, like Ariff Dzull from Malaysia and Kai Zaini from Brunei Darussalam, who both study at the University of Arizona in Tucson and drove for two hours to meet their idol.
"I am her fans since I was in Brunei," Zaini said.
Another fan from Mesa, Kendra Gianangelo has been "… listening for years."
"She has a beautiful soul and she has helped me through all the good and bad," she said.
Zarai believes that this album is special, in parts because of the people who helped her created it.
"I worked with a lot of talented producers on this album, including Mike Einziger (from Incubus), Robin Hannibal (Rhye), Chad Hugo (NERD) and had the opportunity to get G-Eazy on Lights & Camera remix," Zarai said.
"It was really nice to grow into my own sound," Zarai continued. "I wanted something that complemented my personality in this album and I also wanted it to be bright, and groovy and still smooth and vibe-y at the same time."
Altough she loves all her music, "Falling" is her favorite song,
"It has a gamelan (a South East Asian bell-like instrument) in the beginning which I love," Zarai said.
Zarai is currently working on a new album which she says will hopefully be out end of August, or early September.