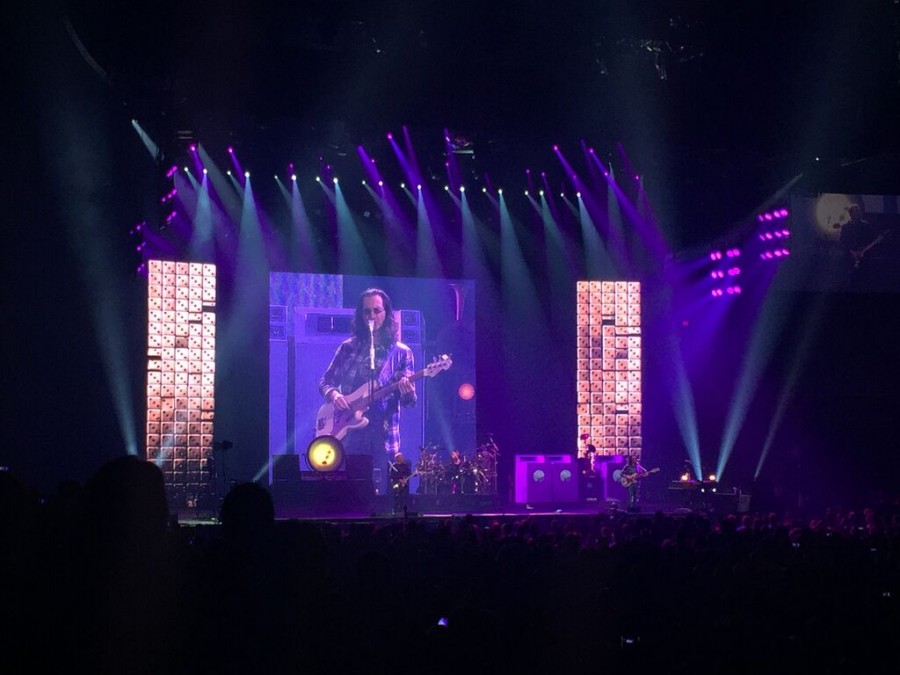 Courtesy of Eric Bengtson
Forty years of doing the same thing can grow quite tiresome, and Geddy Lee, Alex Lifeson and Neil Peart know that better than anyone. The trio's continued evolution is one of many things to celebrate on their 40th anniversary.
Lee, Lifeson and Peart – better known as Rush – rolled into U.S. Airways Center on Monday night as part of their R40 tour, which ends in Inglewood, CA on Saturday. The progressive rock giants played two sets that culled material from just about every album they have released, starting with 2012 effort "Clockwork Angels" and ending with their self-titled debut – released in 1974.
The three members of Rush are now into their 60's – in fact, Lee turns 62 on Wednesday – but they continue to tour relentlessly and challenge themselves musically. Time signature changes and complex, intelligent lyrics are staples of their extremely influential sound, and the trio have long been lauded for their chemistry and skill.
Their chemistry was on full display as the show went on. After somewhat tentatively working through their more recent material, Rush loosened up as their way-back machine arrived in the 1980's; their synthesizer-inflected 1982 hit "Subdivisions" closed the first set. The crowd, too, seemed energized as Rush dug into older material. One fan, 41-year-old Eric Bengtson, was at the concert with a high school friend. He told NEVN that he saw Rush with the same friend back in 1990, and he offered some thoughts on how the newer material influenced his views on the older, "classic" Rush.
"It made me realize that Rush helped define what I think of as great music," Bengtson said. "Even if my tastes are no longer with them, they still got my blood moving when they played 'Tom Sawyer.'"
"Tom Sawyer," arguably the most recognizable Rush song, opened the second set, and the trio proceeded to move backward from their 1981 album "Moving Pictures." While this was in progress, the band's road crew continually picked apart the stage behind them. Clothes dryers and a popcorn machine set up behind Lee were removed, and Lifeson's side received a wall of Marshall amplifiers. That wall, in turn, would be dismantled by show's end, replaced by one amp on a chair. This intricate (and brilliant) stage show was intended to replicate the feel and evolution of the live performances and stage setups throughout the many, many years of touring.
Rush used the amp-on-chair setup during the encore, in which they blazed through "What You're Doing" and fan favorite "Working Man," both from their first album. Upon the conclusion of "Working Man," Lee emotionally thanked the crowd and departed – stage left, of course.