Body Art Expo at AZ State Fair recap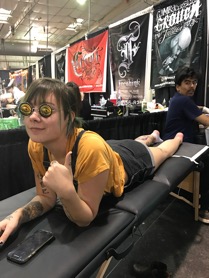 Ivana Venema, Reporter
February 14, 2017
On the weekend of February 10-12, the Arizona State Fair in Phoenix had their annual Body Art Expo, introducing many artist's work from unique designs to passionate techniques.
Many are here for different reasons, from the live music performance to contests of best body art. Body artist Jesse Ellerbe expressed the reason of his profession is to express unique styles and designs.
"I fell in love with tattooing, because I felt like it was the same idea as graphic design," Ellerbe said. "People were asking me for ideas and logos, they wanted them to represent themselves."
All in one event, artists from all over the country unite that is meant for expression and free thinking no matter someone's background. The atmosphere of such place is the attraction. Like Danielle Ferguson who came to the event to support her friend "Justice" who was going to perform Hip Hop at the 1 P.M. performances.
"It's awesome! I like the energy" Ferguson said.
From Friday through Sunday, body art contests were conducted by the participants showing off their ink done during the day by the artists. The best participants competing in the Tattoo Expo would have their artist's names recognized by winning a plaque. Some categories included size from small, medium and large, color specialty and tattoo of the day. There were also Extreme Human Suspension to Extreme Freak Shows on Saturday, with many other contests. Many activities for the ones who want to have their name recognized.