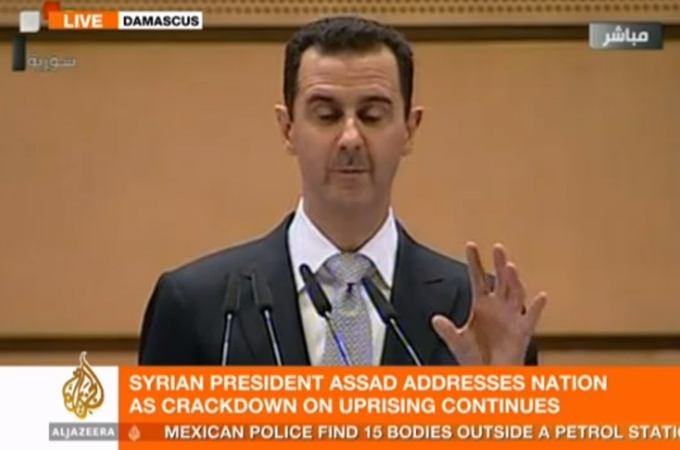 Courtesy of Al Jazeera English
Over 400,000 people have lost their lives in five years of civil war in Syria, which began with anti-government protests before escalating into a full-scale civil war. More than 11 million others have been forced from their homes as forces loyal to President Bashar al-Assad and those opposed to his rule battle each other – as well as jihadist militants from the so-called Islamic State. Nearly five million refugees have fled to Turkey, Lebanon, Jordan, Egypt and Iraqi Kurdistan, while 6.6 million remain internally displaced within the country. By June 2013, the United Nations said 90,000 people had been killed in the conflict. By August 2015, that figure had climbed to 250,000, according to activists and the UN.
According to various human rights organizations in addition to the UN, human rights violations have been committed by both the government and the rebels, with the vast majority having been committed by Assad's government.
The violence in Syria caused millions to flee their homes. As of March 2015, Al-Jazeera estimated 10.9 million Syrians, or almost half the population, have been displaced. Almost  four million have been made refugees. As of September 2016, the European Union reported that there are 13.5 million refugees in need of assistance in the country. According to a New York Times article, local Syrian groups estimate, as of February 2016, the conflict's death toll topped 470,000 people.
The United States recently took action in response to a suspected chemical attack on a rebel-held town in Syria that killed more than 80 people, including many children.
"When the United Nations consistently fails in its duty to act collectively, there are times in the life of states that we are compelled to take our own action," U.S. Ambassador to the UN Nikki Haley said on April 5.
The warning came during an emergency meeting of the UN Security Council called by France and Britain after an early morning attack on April 4 when at least 58 people, including 11 children, were killed in a "toxic gas" bombing raid on a rebel-held Syrian town. The Human Rights Council's report, titled "Out of Sight, Out of Mind: Deaths in Detention in the Syrian Arab Republic," details dozens of incidents based on interviews with more than 600 people — most of whom are former detainees and eyewitnesses to the reported atrocities, the council said.
"Massive and systematized violence — including the killing of detainees in official and makeshift detention centers — has taken place out of sight, far from the battlefield," the report begins.
"The Syrian government has committed the crimes against humanity of extermination, murder, rape or other forms of sexual violence, torture, imprisonment, enforced disappearance and other inhuman acts," it continues.
The crisis in Syria continues to deepen, and it remains to be seen how international actors will contribute to the resolution of this grisly conflict.