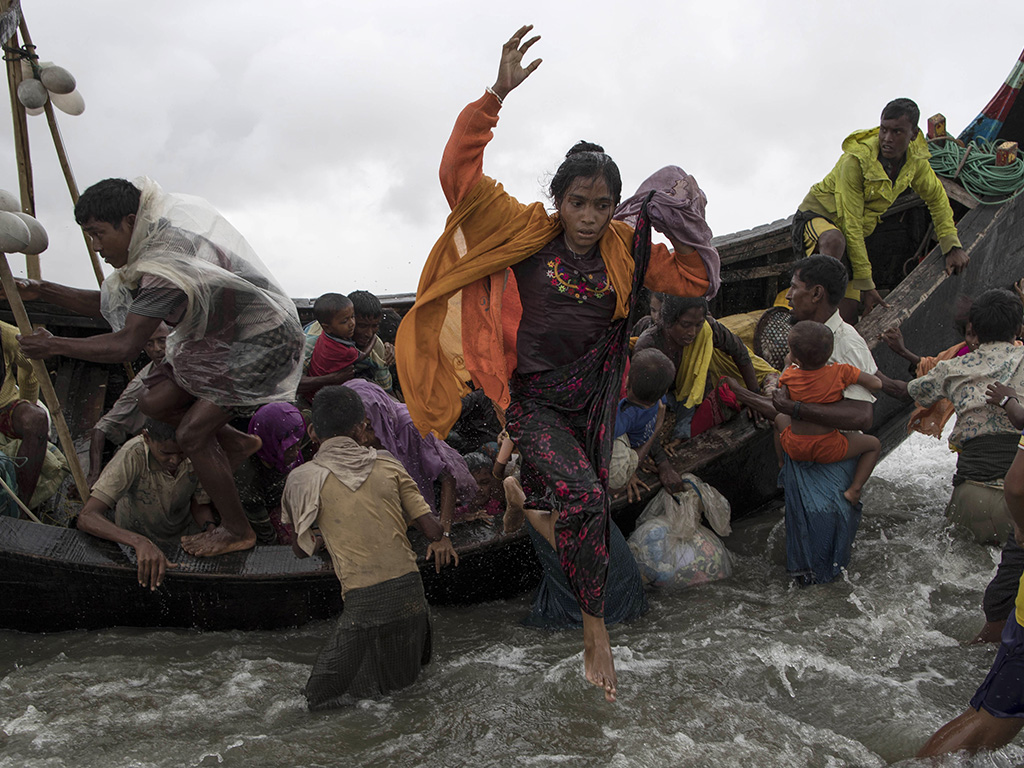 Courtesy of Dan Kitwood
An estimated 400,000 Rohingya refugees have fled Myanmar for Bangladesh, a humanitarian crisis that has quickly garnered international concern.
A Myanmar government sponsored crackdown began after the Arakan Rohingya Salvation Army's (ARSA) attack on police posts and an army base on Aug. 25 which claimed the lives of hundreds of civilians, including women and children.
The Rohingya have been living in Myanmar for generations, their right to citizenship has always been denied. The Burmese government considers them to be illegal migrants from Bangladesh. On Sept.13 The New York Times ran an article called The Rohingya in Myanmar: How Years of Strife Grew Into a Crisis The report includes information chronicling the history of violence and discrimination against the Rohingya ethnic community.
The Burmese government passed a law called the "Burma Citizenship Law," in 1982 calling the Rohingya an illegitimate ethnic minority group with no path to full citizenship, thus restricting their rights to have education, healthcare, and other basic human rights.
An article by Mizanur Rahman from The Daily Star, titled, "Rohingya crisis: Politics of denial," states that Senior General Than Shwe, "Declared that the Western concept of human rights and freedom is not compatible with the culture and tradition of Myanmar."
It is worth-noting that the article also states that the Rohingya people constitute only one percent of the total population of Myanmar. The recent wave of attack by Myanmar military and allied mobs has caused displacement of thousands of people to neighboring country Bangladesh.
In a letter sent to The New York Times, "Genocide in Myanmar," Frank J. Perez, a high school world history teacher responds about his concern over a humanitarian crisis that is largely unknown.
"In recent weeks nearly 400,000 Rohingya have fled their homes for safety in nearby Bangladesh," Perez said. Myanmar's Rohingya population is suffering on an apocalyptic scale that demands as much international attention as North Korea's nuclear tests."
While Bangladesh itself has a huge population, an influx of Rohingya has added to its liability.
Amanat Ullah, an English teacher at Ramu Cantonment Public School and Cox Bazar, spoke with Northeast Valley News about the Rohingya crisis.
"It is a humanitarian catastrophe because they don't have enough food, shelter, medical support to survive with and are living in an unhygienic conditions," Ullah said. "Since food and transportation costs are rising, it is going to have a negative socio-economic impact on Bangladesh."
Northeast Valley News spoke with refugee Golam Kader, 46.
"It was like a nightmare," Kader said. "Mobs set my house on fire as if they were playing game. Then, it took us a 3-day long walk with no food to get to Bangladeshi border."
In 2011, Aung San Suu Kyi, a Nobel Laureate, took office in 2011, after half a century of military rule. With the recent events unfolding however, she has been silent on the situation of the Rohingya people and the human rights violations.
Over the days, Suu Kyi's silence has drawn widespread criticism.
In recent times, Nobel laureate Malala Yousafzai of Pakistan, Bishop Desmond Tutu of South Africa, Dalai Lama of Tibet, and Senator John McCain of Arizona have urged Aung San Suu Kyi to put an end to this horrific violence