The Manhattan Short Film Festival screening at the Phoenix Art Museum
The Manhattan Short Film Festival (Manhattan Short) is the world's first global film festival that introduces qualified short films to the world in America, Europe, Asia, Africa, Australia, South America, and Central America.
Manhattan Short encourages audience members to be part of the determination of the winning of finalists—to be announced on Oct. 8.
The films that are chosen as finalists are automatic Oscar potential candidates.
Manhattan Short is the only event of its kind—where audience voting distinguishes finalists.
"We used to get celebrity and celebrity judges, and I just always disliked it, I am not a fan of a festival having justification through celebrities," said Nicholas Mason the founding director of the Manhattan Short Film Festival.
Cinema-goers across the U.S. and around the globe will become instant film critics when they are handed a ballot upon entry that allows them to vote for the Best Film and Best Actor.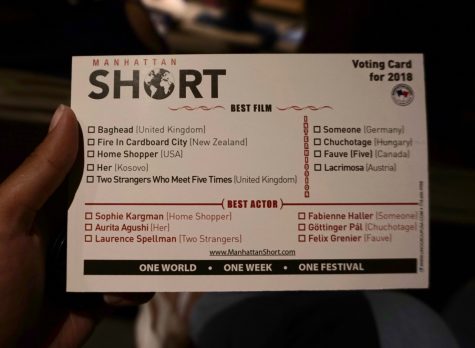 Nicholas Mason, the founding director of the Manhattan Short Film Festival chronicles how it all began on his website.
In 1998 Mason attached a screen to the side of a truck on Mulberry Street in New York City and projected 16 short films to an audience of about 300 New Yorkers on the street. Today, the Manhattan Short Film Festival is seen across the globe, South America, Australia, Asia and in 2010 he added Africa to become the World's First Global Film Festival.
This year, the Manhattan Short Film Festival takes place in over 300 cities spanning six continents by screening nine selected short films. Arizona is one of the places that will get an opportunity to watch these short films until Oct. 4.
Arizona in particular, has five venues for the event including, Flagstaff, Phoenix, Prescott, Sedona, and Tucson. In Phoenix, the festival is held at the Phoenix Art Museum.
Keyaanna Pausch, a staff member at the Phoenix Art Museum who has handled the event for two years, noted that the event attracted more people this year.
"The number of audience increased almost 50 percent compared to last year," Pausch said.
Janice Parker, one of the audience members said that this was her first year of attending the event.
"It was absolutely amazing and I will look for it to come back again, the films were both artistic, meaningful and very timely," Parker said.
The nine short films screened at Manhattan Short Film Festival are chosen by Nicholas Mason and his team after receiving 1,565 submissions from 73 countries.
This year's Final Nine represent an extraordinary range of film genres that include intimate dramas; fast-paced animation; spine-tingling tales; a World War II epic; a film shot entirely underwater and a comedy as part of the Manhattan Short Film Festival program.
The Manhattan Short Final Nine are:
Lacrimosa (Austria), Fauve (Canada), Someone (Germany), Chuchotage (Hungary), Her (Kosovo), Fire In Cardboard City (New Zealand), Baghead, (UK), Two Strangers Who Meet Five Times (UK), and Home Shopper (USA).
Information on the events can be found on the Manhattan Short Film Festival website.