SCC football beats Phoenix College for sixth straight win
The Artichokes rode their defense to a sixth straight win in a sloppy Homecoming affair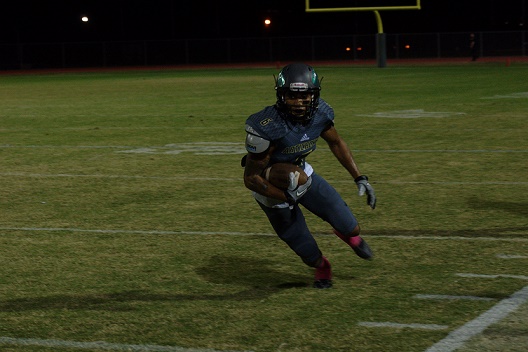 The Fighting Artichokes' win streak continued with a big win on Homecoming night.
Despite some sloppy moments, SCC defeated the Phoenix College Bears 42-21. The Artichokes raced out to a 21-0 lead, but the offense failed to pay attention for the entire game, which kept the score relatively close heading into the fourth quarter. The Artichokes were able to move the ball, but either penalties or poor execution held them back. In spite of all those penalties on both sides and slow movement on offense, the Artichokes still managed to rack up 28 points when they had the ball. Quarterback Michael Sanders noticed his team continued to make little errors.
"We were sloppy on some drives and shot ourselves in the foot, making stupid mistakes," Sanders said. "We left at least another 30 points on the field."
The defense, however, played really well. The defensive line kept pressure on the ball and the secondary protected the air all game. Linebackers kept the Bears from achieving a solid footing in the ground game. The Artichokes were successful in keeping the Bears out of the red zone most of the game, but they let up in the fourth quarter, where second and third string players let the Bears score 14 points. The defense was not deterred by the sputtering offense, and kept the score at 21-7 into the fourth quarter, when safety Cloves Campbell put the nail in the coffin with an amazing 97-yard interception return for a touchdown one minute into the fourth.
"The defense had a great game and kept seeing three-and-outs, but there is always room for improvement," Campbell said. "The pick-six definitely changed the momentum of the game and gave us a little swag to finish the game."
With this win, SCC continued their win streak and ran their record to 6-1. A win is still a win, but to Coach Madoski, it's something more than just the score.
"We didn't play the way we wanted to tonight on any side of the ball. We tend to jump on teams and then back off," he said. "We jumped on the team to start, but we need to finish the game."
The Artichokes have everything going for them; they just tend to take their foot off the gas when they jump on a team and dominate, as Madoski said. If the Fighting Artichokes can better sustain pressure and keep focus, it will keep Madoski happy and keep the Chokes in the win column. Their next game is Oct. 18, at home to Mesa CC.