SCC volleyball enjoys midseason success, looks toward post-season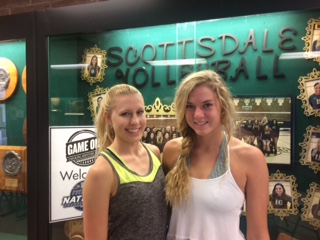 Ole Olafson, Reporter/SCC
September 29, 2017
"I want my team to be that team that people fear," Emily Holm, sophomore, outside hitter and co-captain of the Scottsdale Community College volleyball team said.
Northeast Valley News received an inside look at the mindset of the Artichokes volleyball team when we spoke with Holm.
"We wanna make it so teams fear us, and that when they do fear us, and we put our power behind our words, we make it so there's a reason to fear us," Holm said.
Holm, the Artichokes' not-so-secret weapon, is at least partially responsible for any fear struck into the hearts of opposing teams.  She was awarded the ACCAC "Player of the Week" for consecutive weeks in September and has drawn high praise from the team's Hall of Fame coach Regina Mannix.
"I think Emily is the best player in the conference and it's been a long time since I thought we had the best player in the conference.  But in six rotations she is the best player in the state of Arizona at this level," Mannix said.
Holm and the rest of her team have good reason to be confident.  Currently 10-4 with only two losses to DII conference foes, the lady Artichokes are looking forward to regionals and beyond.
"I believe we're in a solid spot to be in the top-four [regional playoffs].  The seeding of that top-four is really, really up for grabs," Mannix said.  "I'm not comfortable saying where we'll fall in there [seeding] but I am comfortable saying we will be in post-season play.
Holm is also confident of the team's chances to extend their season.
"I'm very excited about it," Holm said.  "We're planning for it.  Our coaches, our team, we're all expecting to go to regionals.  And we want to take it to nationals."
Confidence aside, the road to regionals will probably not be a completely smooth journey.  The lady Artichokes enjoyed a long home stand in September, playing only two road games during that month.  Subsequently, the team faces seven of their last ten opponents as the visiting team.  Mannix sees it as an opportunity to get the team ready for the national tournament.
"This whole season is about getting to the national tournament and that's going to be on the road," Mannix said.  "Controlling your environment is a necessary skill once you're at the national tournament.  And these are all opportunities to hone those skills and get better and get more focused."
Freshman, setter and Artichokes co-captain Raphael Temple is looking forward to the challenge of finishing the season on the road.
"If everyone can keep in a positive mental state as we go into these away games I think it will add to the excitement," Temple said.  "It's always fun playing in other people's gym.  It gets you hyped up."
The Artichokes have only three remaining home games on their schedule.  September 29, October 6 and October 10.  They will face Mesa CC, Pima CC and Grand Canyon University respectively.  The October 6 game will be "Sophomore Night" for the Artichokes.  All games begin at 7:00 pm.  Regional playoffs are slated to begin on Thursday, November 2.