Bisbee — a hidden treasure in southern Arizona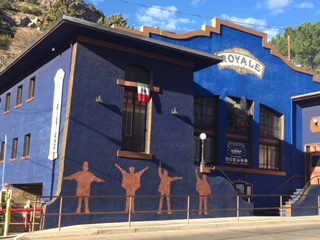 As temperatures in the Phoenix valley begin to warm, the town of Bisbee in southern Arizona is a best kept secret and a favorite shelter from sweltering temperatures, that offers an "experience" of artists, theatre, galleries and a step back in time.
Located 92 miles southeast of Tucson and with a population of roughly 6,000 people, Bisbee began as a mining town in the early 1900s.
After the closure of the mines in the mid-1970s, artists began to migrate to this mile-high town for creative expression. Today, more artists are moving to Bisbee and are perpetuating a vibrant culture that defines the Bisbee of today.
Tiffany Alexander moved to Bisbee from Detroit over three years ago and found the community to be exactly what she was looking for.
"I have been more creatively fulfilled and inspired here than I have any other place in my life. If you have any desire to be creative or collaborate with other artists, this is the place for you. For the past two years, I have been a performer and co-producer for Showcase Fatale, a performing arts troupe. It has been an incredible experience and it just keeps getting better," Alexander said.
Old town Bisbee's main street is an architectural combination of small-town America and the old west. While its historic background dates back to the late 1800s, Bisbee is a modern and thriving town that features art galleries, picturesque murals, and a variety of unique culinary options.
"I enjoy how supportive and inspiring the community is in Bisbee. Everyone is constantly working on their art or projects and encouraging you to pursue yours. If you are having a hard time getting in touch with your creative spirit or artistic side, Bisbee will help, said Rachel Hudson, an aspiring artist who moved to Bisbee eight months ago.
Frommer's recently named Bisbee one of the top places to go in 2018.
This recommendation came because of the artistic influence and architectural layout.
This opinion has been shared with other media outlets such as Sunset Magazine and USA Today, both of which named Bisbee the best small town in America in 2016.
"Sometimes I just can't believe the creativity oozing from this special little place and the projects I have had the privilege to work on with some truly amazing people," Alexander said.
The spirit of Bisbee continues to grow from the history of a once-thriving copper mining town, into an eclectic haven for artists.
Bisbee is a gem for the tourists that love to wander through the artistic creative offerings of the locals who just happened to find their place in the midst of a historical American West threshold.