Protests over death of two students hit by speeding bus is met with violence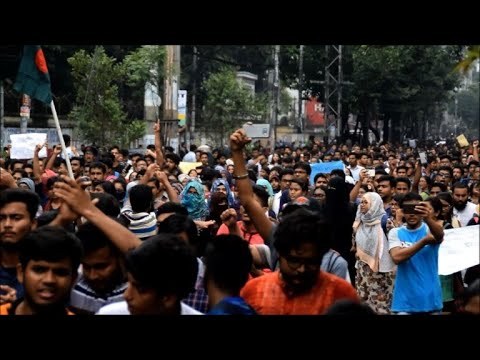 BANGLADESH – The demand for safer roads and traffic laws has received wider international coverage.
The mostly student movement began with 9-point demand for a safer road system.
The movement was considered ground breaking predominantly because students attempted to enforce the traffic laws which are often violated reportedly because of police corruption and resulting in the deaths of thousands of people over the years.
Notably, the student movement has gained a huge support from the citizens because the reckless driving of buses has killed more than 7000 pedestrians last year alone.
Countering the protests, the student wing of the incumbent government reportedly attacked the protesting children along with law enforcement agency. Law enforcement agencies have used tear gas, batons, rubber bullets to suppress the protest, wounding nearly 200 people including a journalist from the national and international media.
New York Times reports that the arrest of a prominent photojournalist, Shahidul Alam, over his interview with Al Jazeera has been denounced by Amnesty International.
Northeast Valley News talked to university student, Salman Sanvy over the protest.
"Government has crossed all limits of logic. There can be no justification for the attack on students, no matter what rumor has spread or whoever is fueling the protest," Sanvy said.
Many students came out in solidarity of a peaceful protest—but police, along with the government's student wing attacked protestors with tear gas and rubber bullets at East West university campus.
The government is reportedly trying to shift the blame on the opposition party, blaming these brutalities and rumors are serving to stoke the tension among citizens in order to topple the government with the approaching election.
"The way government is attacking the student to silence their voice is horrific. They are trying to stick to power denying people's rights," said Bangladeshi University student, Abdullah Al Noman.
The blame game is being widely criticized by the national and international media as an attempt to break up the protests.
The internet has been reported as being frequently slowed down—in an alleged attempt to isolate the protesters and silence the criticism.