Arizonans and Tourists Enjoy Las Vegas
As a world tourist destination, Las Vegas offers a glamorous view and many famous tourist spots that are renowned across the globe.
"What happens in Vegas, stays in Vegas," is the slogan that has stuck with the western city of lights that never sleeps.
Las Vegas, considered fourth in the ranking as America's most visited tourist attractions boast more than a quarter million people come visiting this city—also known as "sin city."
For Arizonans, it's just a four-hour drive.
Vegas is the three-day weekend destination for everything from bachelor parties to a quickie marriage or a casino getaway and top entertainment venues.
But many tourists travel across the globe to take in Las Vegas because they don't want to miss the euphoria of visiting the gambling sanctuary of the U.S.
One tourist from Japan said she enjoys the nightclubs, shopping and casinos.
In a recent visit to Vegas by nevalleynews.org, the 107 degrees didn't seem to bother most tourists and they didn't complain about standing in some long lines at the historical tourist spots.
One tourist, Agustinus from Lithuania even took a photo with the flag of his country in front of the infamous Las Vegas neon sign.
"Happiness brought me here," Agustinus said.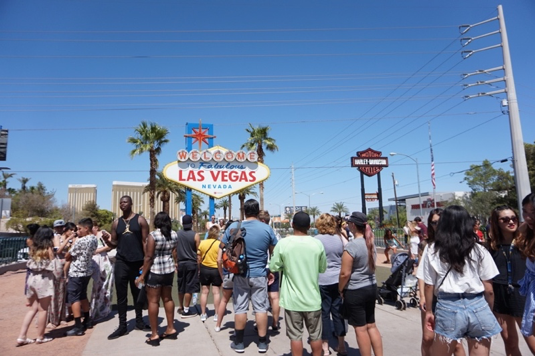 According to the United States Census Bureau the population of Las Vegas (2016) came in at  632,912 but the expected growth, according to the Las Vegas Review-Journal and the Clark County report is approaching 2.25 million—and that's not counting the millions of tourists that visit each year.
The glamour and gleam of Las Vegas aside are no different than any big city when it comes to dealing with a growing crisis—the homeless population. Among the lights and the glitz, Las Vegas has its share of sad sights as homeless individuals rely on the famous "strip" for daily survival.
Many seek out the well-populated strip in order to earn money by singing or merely holding signs asking for help in the desert heat.