Reading between the lines and the signs of Az. ballot propositions
Nevalleynews.org reporters dug in to help voters discern some of the information and misinformation regarding propositions along with the various sign messages and what each proposition actually means for voters.
Reporters worked to gather information along with other reports that present both sides and provide some additional insight. All official language for the propositions can be found on Arizona's General Election Guide"
Below are two graphs that indicate how both Democrats and Republicans are advising on voting for each of the propositions.
One is from the LD24 Dems (Democrats) in Scottsdale and their voting advisement for the propositions.
Democrats voting on propositions (below) (LD24 Democrats)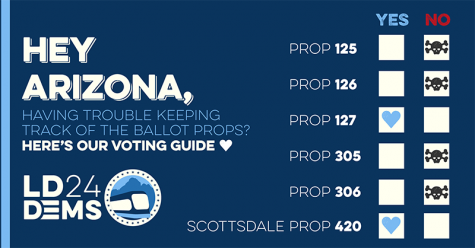 The other is the Republican advisement of voting on propositions (Maricopa County GOP) below
Prop 125: YES
Prop 126: NO
Prop 127:  NO 
Prop 305: YES
Prop 306: YES
Proposition 125
Cynthia Tapia, Reporter
This November, Arizona is introducing proposition 125 to the ballot, which, if approved, decreases elected officials and correctional officer pension plan benefits from four percent to two percent.
This proposition is similar to proposition 124 that was presented in 2016, concerning (at that time) police officers, firefighters, and lawmakers pension plan being the first of public safety's pension plans to be decreased.
If the proposition fails, the current four percent would remain for the pension plan benefits.
Retired corrections officer Eric Hahn opposes prop. 125 describing the current financial climate and job conditions.
"This job class is one of the lowest paid in law enforcement and the promise of a good pension plan is why people put up with some of the worst job conditions in any field," said Hahn on the ballot.
On the other hand, the board of trustees who is appointed by Governor Doug Ducey, is in support of 125.
Stating a yes vote would free up $275 million which is to be used for education, libraries, and parks.
In a recent KTAR News article the following information was reported with regard to Prop 125.
Proposition 125: Public Safety Personnel Retirement System vice chairman Will Buividas supports the notion, saying the adjustment will help spread out payments long term."We believe that it will ensure that the funds will be sustainable going into the future. After we did it for PSPRS two years ago, PSPRS is back to the path of recovery," Buividas told KTAR News 92.3 FM.
What would it mean if you vote yes: You would authorize the Arizona Legislature to adjust elected officials' and corrections officers' retirement plans to remove a four percent benefit increase and replace it with a maximum of two percent cost of living increase.
What it would mean if you vote no: You would not authorize the Legislature to adjust the retirement plans, and the current benefit and contribution rules for elected official and corrections officer retirees would stay in place.
Democrats suggested voting on Proposition 125? See chart above.
Republicans suggested voting on Proposition 125? See chart above
Proposition 126
Tyler Buckland, Reporter
Proposition 126 would prohibit the increase or placing new taxes of any personal or financial services such as family services, personal services like hair cutting. In addition to health care services and real estate services.
Supporters of this Prop. include the Arizona Association of Realtors, American Institute of Architects-Arizona, Arizona Retailers Association, and Arizona Small Business Association
There is opposition to the proposition—arguing that excluding taxing these private services could cause increased taxes for other industries.
Namely the "goods" industry, which could subsequently drive up the sales taxes on goods. Some are afraid that this proposition would play into certain lobbyist interests and create an unfair tax advantage. Also arguing that taxes on services industry jobs could help fund education.
Governor Ducey has been on record opposed to Proposition 126 as well.
Ducey said "I am opposing Proposition 126. I think Prop. 126 is a bad idea. I think putting a permanent and unchangeable tax policy at the ballot box is a bad idea."
Democrats and Republican leaders alike appear to oppose this one.
According to a recent article from KJZZ.org  the bi-partisan opposition includes both Ducey and his gubernatorial opponent, David Garcia.
Despite no call to oppose the measure from state GOP lawmakers, the proposal has generated resistance from Gov. Doug Ducey, according to his press aide Daniel Scarpinato.
"He does not believe that tax policy should be set at the ballot. It's permanent and unchangeable. And he would encourage folks to vote no," said Scarpinato.
A spokesman for Democratic gubernatorial candidate David Garcia said Garcia also opposes the measure.
Democrats suggested voting on Proposition 126? See chart above
Republicans suggested voting on Proposition 126? See chart above
Proposition 127
Ole Olafson, Reporter
According to "Arizona's General Election Guide" for the November 6, 2018 General Election, if enacted into law, Proposition 127 would be called "Clean Energy for a Healthy Arizona Amendment.
Basically, Prop 127 would require Arizona utility companies to prove that a certain percentage of the electricity they sell comes from "renewable" energy sources.
The percentage of "renewable" electricity required by Prop 127 would begin at 12% in 2020 and increase incrementally to a figure of 50% by 2030.
According to the proposition, eligible renewable resources include:  Biogas and biomass electricity generators, distributed renewable energy resources, eligible hydropower facilities, fuel cells that use only renewable fuels, geothermal generators, hybrid wind and solar electrical generators, landfill gas generators, new hydropower generators of 10 mw or less, solar electricity resources and wind generators.
According to the "U.S. Energy Information Administration", in 2016, nuclear and natural gas generators created about one third each of Arizona's total electricity.  Coal fired plants created roughly 25%.  The remaining 10% is considered is composed of electricity generated from solar energy and all forms of hydroelectric.
Alejandra Gomez, Chair, Clean Energy for a Healthy Arizona, claims that passing Prop 127 will cut pollution, create healthier environment while creating jobs and lowering electric bills.
Matthew Benson, Arizonans for Affordable Electricity, claims an independent analysis showed the measure will not reduce air pollutants for most Arizonans and will have no impact on asthma rates or other illnesses and will increase electric bills by 50%, causing Arizona families to have to pay an average of $1,200 per year more for electricity.
Democrats favor a "Yes" vote and site that the proposition would replace Arizona's current plan for increasing renewable energy use by imposing a new mandate requiring nongovernmental electric utilities to increase the portion of their retail energy sales generated from certain types of renewable energy resources to 50% by 2030
A "YES" vote would require private utilities to increase their use of solar energy.
Democrats suggested voting on Proposition 127? See chart above.
Republicans suggested voting on Proposition 127? See chart above.
Proposition 305
Riley Pendelton, Reporter
Prop 305, is considered one of the more controversial ballot measures due to the recent #redfored resistance. This proposition has led some Arizonans to believe that favoring 305 is akin to supporting the recent headline making resistance of the "Redfored" movement
But proposition 305 is not the #redfored movement, despite the striking 305 red sign layout and similar hashtag language.
Democrats oppose proposition 305 and site that a "Yes" vote would take taxpayer money out of the public school system and favor private vouchers. Opposition to 305 also claims that the proposition is written in such a way to confuse the voter with regard to supporting education, educators and public education.
The Southern Arizona Leadership Council (SALC) strongly encourages the voters of Arizona to vote "NO" on Proposition 305. Proposition 305 expands the use of Empowerment Scholarship Accounts (ESAs) beyond their intended purpose and will siphon money from our already under- funded public education system.
Proponents of the measure say the proposition would allow Senate Bill 1431 (2017) to go into effect, which would gradually increase for four years the percentage of students in kindergarten through twelfth grade eligible to receive an empowerment scholarship account to spend on tuition, textbooks, educational therapies, tutoring, or other qualified forms of instructional assistance at a private or home-based school in an amount equal to 90% of the allotted funding that otherwise would have been allocated to the student's public school district or charter school (for low-income students, the amount would be equal to 100% of the allotted funding).
Democrats suggested voting on Proposition 305? See chart above
Republicans suggested voting on Proposition 305? See chart above
Proposition 306
Ivana Venema-Nunes, Reporter
The Clean Election Account Uses and Commission Rule making Measure will be on the Arizona ballot on Nov. 6.
The proposition if a yes vote, will "prohibit candidates from using their public financing accounts to give funds to political parties or tax exempt 501 (a) organizations that are allowed to engage in activities to influence candidate elections and require the Citizens Clean Election Commissions proposed rules to receive approval from the Governor's Regulatory Review Council" according to BallotPedia online brochure.
It is not uncommon for states to allow candidates to use public funding while campaigning for state offices.
For candidates to qualify they must fulfill conditions and agree to these restrictions,
"candidates must collect $5 contributions from registered state voters. In addition, recipients must agree not to accept contributions from PACs or corporations." according to BallotPedia.
501(a)- outlines which types of nonprofit organizations are tax exempt.
Citizens Clean Election Commission's- is devised to oversee the public financing program for campaigns. This has five commissioners—-2 Dems 2 Rep and 1 Independent.
Governor's Regulatory Review Council- is a 7-member council that was established in 1981 through an executive order of Gov. Bruce Babbitt (D). The governor appoints six members to 3 year terms. The seventh member, who also serve as the council chair, is the director or assistant director of the state Department of Administration.
The opposing platform is concerned that if this proposition does pass— the transparency between the funds, candidates and the general public will be in the dark.
"The Clean elections commission changed its rules last year to require more reporting of clean election candidates, more audits, and require deeper disclosure of not only vendors, parties, who are vendors for candidates…but also requiring more transparency with the consultants that clean election candidates contract with…. This measure effectively would reverse those rules and bring consultants back into the dark with how clean election funding is spent through consultants" Rep. Athena Salman, a Democrat, said.
"Gov. Doug Ducey has signed legislation to shield the identity of donors. Ducey has depended on private donations for his campaigns, with much of his support coming from 'dark money' groups that refuse to divulge their donors. And he is on record as opposing efforts to ban anonymous funding of political campaigns." According to a recent report from  Tucson.com
Opposition to 306 states that a "Yes" vote tips the scales of spending on behalf of private donations and penalizes those candidates that rely on clean elections funds would prohibit candidates who finance their political campaigns with public funding from the citizens Clean Elections commission from transferring any campaign funds to a political party or private tax-exempt organization that attempts to influence elections and subjects the commission's rulemaking procedures to a regulatory oversight.
A "NO" vote would keep the existing Clean Elections rules in place, allowing candidates to contract with their political party for services.
Democrats suggested voting on Proposition 306? See chart above
Republicans suggested voting on Proposition 306? See chart above
For a review of Scottsdale's Proposition 420 from both proponents and opponents, please refer to the recent Arizona Republic article, as well as the Scottsdale Independent.