Welcome week at SCC features free food and help for students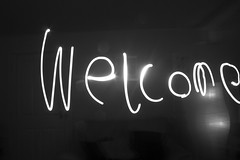 Ole Olafson, Reporter
August 20, 2019
The new school year has officially begun and with it, Scottsdale Community College Welcome Week 2019, kicked off on Monday, August 19.  Welcome week is a five-day celebration of the new school year featuring events aimed at helping students to get their semester started right and…feel welcome.
Monday through Wednesday, the Welcome Week Fair features free food and free stuff from businesses like Auntie Anne's, Subway and Portillo's from 11:00-1:00 in the student center foyer outside Chartwell's Cafeteria.
For any last-minute class changes or questions, the Advising Center will offer "Express Advising" from 10:00-3:00 in the Advisement Department to help students get squared away academically.
On Thursday, students can check out and sign-up for clubs and organizations on campus at "Club Fair" from 11:00-1:00 in the student center.  Registration tables will be set up in the student center between advising and Chartwell's Cafeteria.
Also, on Thursday, Interim SCC President Chris Haines as well as the Vice-President and Deans, will be serving free pizza to students during the President's Pizza Party from 12:00-1:00 near the "Club Fair".
SCC Academics and Career Advising along with Women Rising and Men Network will sponsor "Emerging Professionals", a mixer with free food, from 3:00-4:30 in the Student Center foyer.
Finally, On Friday, August 23, SCC Serving-Learning and Leadership features "Finish Strong Day" where students who RSVP through the Service-Learning and Leadership Department located in SC100 can participate in packing meals for malnourished children worldwide through the "Feed My Starving Children" program.