Detained migrant children heavily traumatized after separation from family members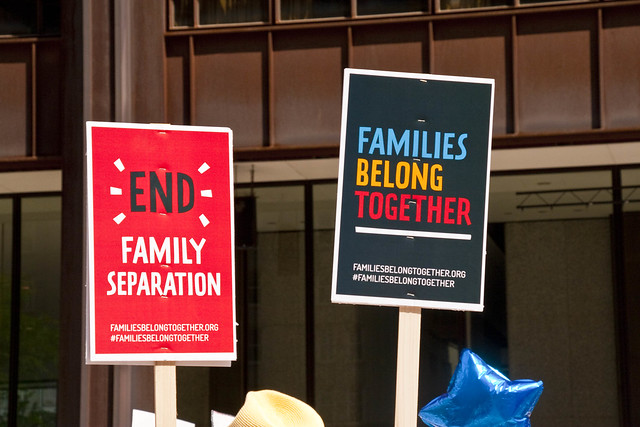 Olga Perez, Reporter
September 10, 2019
The Zero Tolerance Policy issued on May 7, 2018, has reportedly traumatized thousands of migrant children after being separated from their families.
The Department of Justice implemented a "zero-tolerance" policy to discourage illegal migration into the United States and to reduce the burden of processing asylum claims.
According to the Zero Tolerance Policy (ZTP) report, in the 2017 fiscal year, the Department of Homeland Security Customs and Border Protection (CBP) apprehended 75,622 alien families, to which 1,065 of them were separated. In the first five months of the 2018 fiscal year, 31,102 families were apprehended while 703 from the group were separated.
Due to negative attention over the separation of families, on June 2018 President Trump issued an executive order to maintain alien families together until their proceedings were issued.
The U.S Department of Health and Human Services released a watchdog report on September 4, 2019, reporting about the living conditions and health stability of the children who were separated from their parents from before and after the ZTP was put in place.
"According to program directors and mental health clinicians, separated children exhibited more fear, feelings of abandonment, and post-traumatic stress than did children who were not separated," stated in the report.
Although these children were placed in the custody of the Office of Refugee Resettlement, they were placed into centers that were insufficiently equipped to care for them psychologically.
"Separated children experienced heightened feelings of anxiety and loss as a result of their unexpected separation from their parents after their arrival in the United States. For example, some separated children expressed acute grief that caused them to cry inconsolably," the report continues.
The Department of Health and Human Services made a statement in June that unaccompanied minors "are waiting too long in CBP facilities that are not designed to care for children."
Migrant children are reportedly not only being separated from their families, but they are also being placed in centers that are not well equipped to care for them physically or mentally leading to possible further medical problems.