SCC Students pitch in for Salt River clean-up effort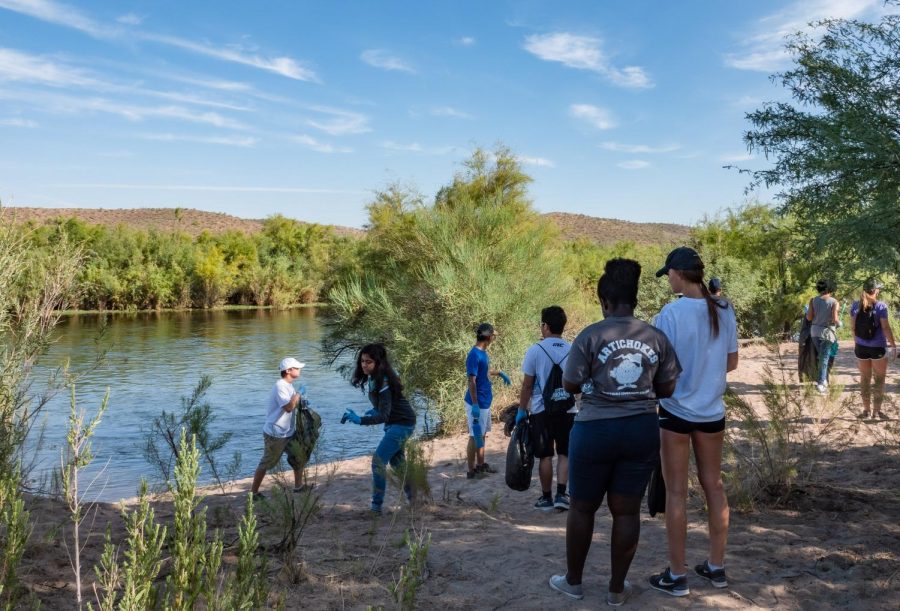 Scottsdale Community College (SCC) students recently participated in a clean-up effort along the Salt River located near the Coon Bluff Recreational Site.
More than 40 students volunteered at the 4th Annual Fall Clean-Up held by SCC's Office of Service-Learning & Leadership in collaboration with the Center for Native and Urban Wildlife (CNUW).
Transportation, gloves, trash bags, water and snacks were provided.
Becky Bradley, Director of Service-Learning & Leadership spoke to Northeast Valley News about the need for a river clean-up.
"Some are not as careful about their trash," Bradley said.
Bradley also said some of the SCC students have not been to the Salt River so this event gives them the opportunity to experience nature and wildlife firsthand and "to give back to the community."
Beer cans, diapers, glass, trash and more items were collected.
The students also discovered a large animal skeleton (believed to be a horse) but left it intact and untouched.
Other campus organizations participated including club members from Artie's Community for Service (ACeS), CNUW and Geology—along with SCC's women's softball team.
One SCC foreign exchange and business student, Laura Koenig, from Germany told Northeast Valley News about her desire to get involved in the immediate community even though she will only be in at Scottsdale for one semester.
"I would like to give something back to the community, so I decided to clean up the river," Koenig said.
Joseph Kemp, Scottsdale business student, Joseph Kemp decided to participate when a classmate mentioned the clean-up event.
"It was a lot of fun," Kemp said. "I just hope we get more people to help volunteer and clean-up our environment."