Scottsdale Community College offers 'Forever Fit": a free nutrition and exercise program and analysis for senior citizens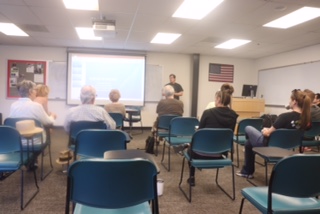 There is a program at Scottsdale Community College specifically designed for senior citizens to have a resource and a place where they can meet their fitness and nutrition goals in order to maintain a healthy lifestyle.
The program is called "Forever Fit."
Robert Martin, Exercise Science, Personal Training and Nutrition Program Director and the person most responsible for the program, spoke with Northeast Valley News about how it works as well as the specific goals that are put into motion.
"The first goal is to help Scottsdale seniors live healthier by teaching them how to exercise and also about their nutrition," Martin said.
Describing the program as a "win-win" for seniors, Martin elaborated on the programs' design of client specific goals for seniors and their particular needs that include (depending on their personal fitness level) that include workout regimen and nutritional education.
The program is also a unique opportunity for Scottsdale Community College students that study nutrition and health to be involved in a hands on agenda.
"The second part of this program is giving our Scottsdale Community College, personal training and nutritional students, an opportunity to work with people," Martin said.
The assistance that is provided for the clients is all done by students in the program while Martin oversees and manages the service that is provided.
The program has been on campus for four years and executes healthy, nutritional alternatives for clients based on a three-day recording of the client's typical diet.
After the recording of diet is evaluated students enter the data into a diet analysis program and make a report that will facilitate conversations with the clients about the next steps to their nutritional plan.
Martin assists the students in creating guidelines for the clients and create a summary of the areas of where they made health intake and improvement in a comprehensive way.
The meal planning falls in the accountability and responsibility of clients since the program is an educational based endeavor for both student and client.
Sherri Cannon, a new client to the Forever Fit program told Northeast Valley News that she "hopes to be as fit as possible."
"I want the best ways for me to work out and to get the results that I am looking for," Cannon said.
The program is free to new and returning clients and helps both the student learn from one on one interaction with clients and the senior attendees leave with a solid fitness and nutrition program.