Much Awaited Scottsdale International Film Festival kicked off on November 1.
On Friday, film lovers and film scholars gathered at the Scottsdale Center for the Performing Arts for the 19th annual Scottsdale International Film Festival (SIFF).
Amy Ettinger, The Executive Director of the SIFF told Northeast Valley News that their mission is to entertain the community, showcase a diverse collection of films that represent cultures from across the world, and to inform the public about certain issues by showing the best film that they can. Ettinger notes, "We have always had the finest films in a given year showing in our festival. The quality of what we show is unmatched".
The highly anticipated film festival presented a 10-day film feast of multiple award-winning films from around the globe featuring Shia LaBeouf, Adam Driver, Scarlett Johansson, Matt Damon, Christian Bale and more. In its 19th iteration, SIFF opened with Noah Baumbach's film "Marriage Story," starring Adam Driver and Scarlett Johansson, on Friday, November 1, at 7 p.m., at the Scottsdale Center for the Performing Arts.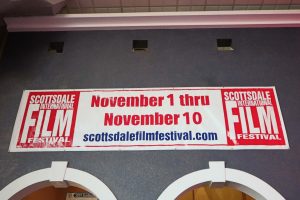 SIFF's additional locations are the Harkins Shea 14 from November 2-3, the Harkins Camelview at Fashion Square from November 4-7, and back to Harkins Shea 14 on November 8.  The closing night feature film is the much awaited American biographical drama "Ford v. Ferrari", starring Academy Award winners Matt Damon and Christian Bale.
A cinema fan, Rachel Nathan told Northeast Valley News about her enthusiasm for this year's lineup.
"I think the line-up is very diverse. There is also different stories that are happening and they are all very unique and I think that everyone has their own take on their stories, they made up for their own messages. I think it is gonna be really good," Nathan said.
The full 10-day film schedule can be seen on the festival website.