Democratic candidate and billionaire, Michael Bloomberg, apologizes for one of his policies: but Bloomberg News at odds with journalistic standards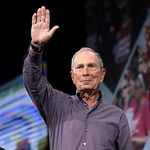 Billionaire, and former Mayor of New York City, Michael Bloomberg officially threw his hat in the ring for the Democratic Presidential nomination on Sunday, Nov. 24. After his announcement, he quickly arranged some campaign stops.
Bloomberg stopped in Phoenix on Tuesday and registered to be on Arizona's March 17, 2020 primary ballot, then met with a small gathering of supporters at a local Mexican Restaurant.
Just prior to declaring himself a candidate, Bloomberg met in NYC with minority leaders and apologized for his "stop and frisk" policy while he was NYC's Mayor from 2002-2013.
Bloomberg, at the time a Republican, touted the policy as one that was working—even though the data, ultimately showed otherwise.
On Sunday, Bloomberg stated, that under his watch, gun violence "had declined" but also told a congregation at a black church in New York that "the police stops of millions of black and Latino men when he was mayor, the practice known as stop and frisk, were a mistake."
"That erosion of trust bothered me — deeply," he said. "It still bothers me. And I want to earn it back."
Bloomberg's late entry into the race was criticized by some current Democratic candidates, like Bernie Sanders and Elizabeth Warren who accused Bloomberg of trying to buy the nomination with his billions.
Bloomberg is planning to skip the early contests in Iowa, New Hampshire, and South Carolina to focus on Super Tuesday, March 3, 2020. The largest number of states (14 in 2020) traditionally vote on Super Tuesday, and the field has grown even larger this year with the addition of California.
Bloomberg has come out against positions taken by many in the current Democratic field like Medicare for all and large taxes on the wealthy. He will not be able to debate these issues with his opponents on the main debate stage as candidates must have a minimum number of donors (200,000) and a minimum percentage in the polls (4%), Bloomberg meets neither threshold.
In a related development, Bloomberg News, owned by the new candidate, announced through a memo by Bloomberg News Editor in Chief, John Micklethwait—
We will continue our tradition of not investigating Mike (and his family and foundation) and we will extend the same policy to his rivals in the Democratic primaries. We cannot treat Mike's democratic competitors differently from him.
Bloomberg's, Bloomberg News, employs approximately 2700 journalists.
At the same time, Micklethwait said Bloomberg News would continue to investigate the Trump administration.
On his Phoenix campaign stop, as with his other stops, Bloomberg took time to blast President Trump.
There is one promise he made that would copy President Trump, however.
That pledge is not to take the Presidential salary of $400,000 should he succeed and win the Presidency.