Valley hosts Cheez-It and PlayStation Fiesta bowls this weekend, games impact economy, generate donations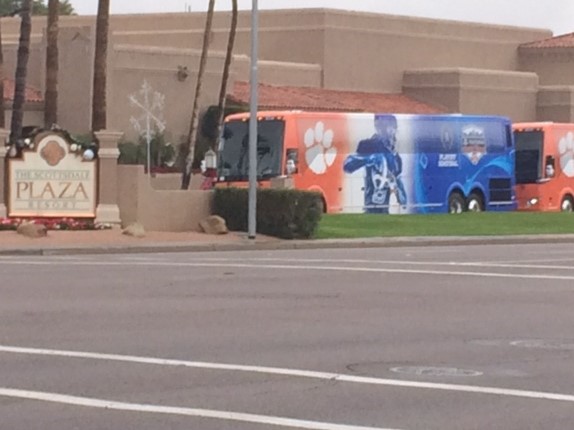 Ole Olafson, Reporter
December 26, 2019
The Phoenix area hosts two NCAA football bowl games each winter.
The Cheez-It Bowl is sponsored by…you guessed it, Cheez-It Crackers and is played at Chase Field near Downtown Phoenix.  It happens at 8:15 on Friday night and will feature Washington State (6-6) from the Pac 12 Conference and #24 Air Force Academy (10-2) from Mountain West Conference.  There won't be much old game film from this one, as the two teams have never met before.
We do know that the two teams couldn't be more different.
Washington State Head Coach Mike Leach utilizes the "Air Raid" offense popularized by coaching legend, Hal Mumme and also espoused by Arizona Cardinals Head Coach Kliff Kingsbury.  It's designed to spread out the opposing defense and relies heavily on the forward pass.
Air Force, oddly enough, prefers to keep it on the ground.  Head Coach Troy Calhoun keeps the Falcons grounded by running a triple-option offense that led the Mountain West and was 3rd in the nation with over 290 rushing yards per game.
The more impactful game, in terms of establishing a national champion, will be the PlayStation Fiesta Bowl.  The Fiesta is the second game of the "College Football Playoff Semifinal", which will pit #2 Ohio State against #3 Clemson for the right to play for the National Championship.  Saturday's kickoff at State Farm Stadium in Glendale is 6:00 local time.
#1 LSU, led by Heisman Trophy winning quarterback Joe Burrow plays #4 Oklahoma in the Chick-fil-A Peach Bowl earlier in the day at Mercedes-Benz Stadium in Atlanta to determine the first finalist.
Clemson and Ohio State seem to matchup pretty evenly.  Both have high-octane offenses led by athletic quarterbacks.  Both have statistically similar lock-down defenses.
More impactful in terms of real-life is the revenue these games generate for area businesses and charitable organizations.  Nick Serpa reported for AZ Big Media in August, that Fiesta Bowl representatives reported that over the last 12 years, the bowl game and related events have generated about $2.75 billion in economic impact.
They also reported to have set a new record this year, by a college bowl game organization, by giving over $3 million to more than 40 nonprofits in Arizona.  They claim to have donated over $10 million to local charities over the last four years.
Sources told nevalleynews.org that Clemson's team has been staying at The Scottsdale Plaza Resort and practicing at nearby Saguaro High School.