Clayton Keller scores two goals in 6-2 victory, makes strong statement for All-Star fan vote, Raanta hurt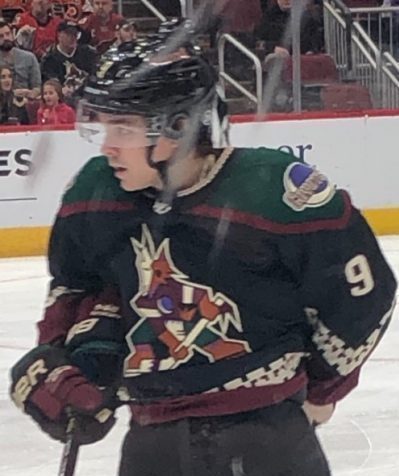 Ole Olafson, Reporter
January 5, 2020
Hang on for a minute...we're trying to find some more stories you might like.
Clayton Keller is Arizona's candidate in the National Hockey League's "Last Men In" promotion.  The NHL developed the fan-voting system which allows fans to choose from one player from each team and elect an additional representative from each division to the NHL All-Star Game in St. Louis, Mo., on January 25.  The voting continues until Jan. 10 and Keller showed the 17,125 in attendance and many others watching the broadcast on Fox Sports Arizona why he deserves their vote.
Arizona began the first period a little slowly.  They failed to get more than one shot on net during their first power play, when Philadelphia's Sean Couturier got caught holding Christian Fischer's stick.
Just over half the period went by before Arizona found their groove, getting two goals in less than a minute from a pair of unlikely candidates.
Brad Richardson scored his third goal this season, when a bouncing puck wandered past Flyer's starting goalie, Carter Hart.  Richardson has scored twice in the last two games.
57 seconds later, Jordan Oesterle made it 2-0 with his first goal of the season, a long shot that found the net through traffic.
Clayton Keller demonstrated why he should be on the All-Star roster by scoring  a power play goal after Travis Sanheim was rougher than the rules would allow.
With the score 3-0 and 3:45 left in the first period, Philadelphia Head Coach Alain Vigneault decided to pull Hart and insert veteran goaltender Brian Elliot.  Elliot, 34, came into the league in 2007 with Ottawa.
Elliot managed to keep the Coyotes scoreless through the vast majority of the second period until winger Lawson Crouse threw a backhand shot past Elliot with less than a second remaining in the period.
When the third period began, the biggest news around Gila River Arena was not the home team's 4-0 lead, but the fact that Coyote's goaltender Antti Raanta did not return for the final twenty minutes.  Raanta, who is replacing starter Darcy Kuemper, is reportedly also suffering from a lower body injury.  Raanta's injury brought in third-stringer, Adin Hill, who was called up from Tucson when Kuemper went down December 19.
It only took the Flyers three minutes to take advantage of the goalie change when Tyler Pitlick launched  Philadelphia's first shot of the period past Hill.
Clayton Keller answered back 87 seconds later when he sniped the top corner of the net, just above Elliot's glove.  It was Keller's second goal of the game, making an even strong statement to the fans voting on the All-Star roster.
later in the period, Flyer's defenseman Justin Braun mysteriously got the puck past Hill, even though it appeared that Hill had the net covered.  Braun, a former San Jose Shark, has three points over the last three games.
The night's scoring wound down with 2:24 left in the game.
The Flyers went on the power play when Coyotes' veteran winger, Phil Kessel was called for tripping.  Trailing by three goals, Vigneault decided to pull Elliot from his goal, creating a six-on-four situation for Philadelphia.  Flyer defenseman Ivan Provorov turned the puck over when he fanned on a shot, allowing Derek Stepan to score a short-handed, empty-net goal to make the final score 6-2.
The six goal finish is a season-high total for the surging Coyotes who have won their last three games and find themselves in a back-and-forth battle for first place in the Pacific Division with Las Vegas.
The biggest questions facing Arizona as they embark on a three game road trip, which starts on Tuesday in Florida, will no doubt be the severity of Raanta's injury and the play of Hill.  If it turns out that Raanta will have to miss time, the Coyotes will likely call up Ivan Prosvetov, Hill's backup from Tuscon.