Incomplete Passes 3.0 Ep 6 – Ole gets "The Box"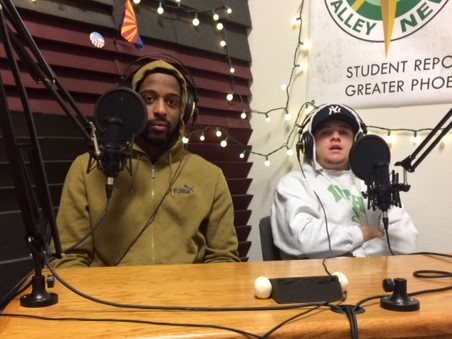 Ole Olafson, Senior Audio Producer
January 31, 2020
The podcasts on nevalleynews.org contain the personal opinions of both host and guest.  Those opinions do not necessarily reflect the opinions of nevalleynews.org, Scottsdale Community College or Maricopa County Community College District.  We encourage discourse from all viewpoints and invite you to voice your opinion about any of our content by using the comment box below each story.
All of us at Incomplete Passes 3.0 were deeply saddened by the death of NBA legend, Kobe Bryant, his daughter Gianna and all of the passengers who perished with them last Sunday.  Our prayers and sympathies go out to their families and loved ones.
On this episode of Incomplete Passes 3.0, Jackson Dungan makes his debut and Timothy Slone is back in action.
Producer Ole Olafson winds up in the penalty box instead of Antonio Brown!
During "4-Down Territory", the guys recap the NFL Pro Bowl and try to hash out something that more people will watch. We'll talk about the top five fantasy players at each position in our last session of XFL fantasy preview before the league launches next weekend (we sure hope there's a platform to play by then). Timothy talks about his experience at Phoenix Suns practice and NBA news from around the league. Ole wraps it up with some of the featured groups at the PGA's best attended tournament, The Waste Management Open.