Buttigieg has lead in Iowa caucus, Sanders close second: Warren in third—Biden admitting a fourth place "gut punch" heads off to New Hampshire to "shake it off"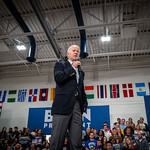 The Iowa Democratic Party additional results from Monday's caucuses on Wednesday afternoon doesn't change the state of play for the democratic candidates.
The results reflected 85% of precincts in the state, former South Bend, Indiana, Mayor Pete Buttigieg and Sen. Bernie Sanders still lead in the 1st batch with about 26.7% and 24.3% respectively.
Sen. Elizabeth Warren has about 17.4% former Vice President Joe Biden about 15.9% and Sen. Amy Klobuchar 12.1% followed by Andrew Yang about 1% the results say.
According to the Bussiness Insider, even though the full results have not released yet, Pete Buttigieg has celebrated and declared his victory in Iowa saying that it's extraordinary that this campaign made it this far.
"A little later than we anticipated, but better late than never, official verified caucus results are coming in from the state of Iowa," Buttigieg said. "They're not complete, but results are in from a majority of precincts, and they show our campaign in first place."
As the first openly gay to mount a major campaign for the presidency, Buttigieg has recently talked  about the beneficial outcomes of his presidential nomination on young people battling to grapple with their identity.
"It validates the idea that we can expand a coalition not only unified around who it is we're against, but around what it is that we're for," Buttigieg said.
Meanwhile, Bernie sanders as mentioned from The Washington Post also celebrates early Iowa results in New Hampshire.
Sanders told in excess of 1,000 supporters at a rally,  "I'm very proud to tell you that last night in Iowa we received more votes on the first and second round than any other candidate."
"I am confident that here in New Hampshire, I know you'll be able to count your votes on Election Night," Sanders said. "And when you count those votes, I look forward to winning here in New Hampshire."
Campaigning in New Hampshire on Tuesday, Warren said she was "feeling good" about her performance in Iowa.
"Look, obviously, we don't have all the numbers, but we're coming out of Iowa in the top three and straight into New Hampshire," Warren said.
"Also, remember, we've got 55 states and territories after this."
Speaking in Somersworth, N.H., on Wednesday morning, Joe Biden spoke in Somersworth N.H on Wednesday and admitted that his position in Iowa was a problem, but not the end—not by a long-shot.
"I am not going to sugarcoat it, we took a gut punch in Iowa," Mr. Biden said. But then he offered a more confident message to those he said were already moving to "write off" his candidacy.
Ending in fifth place, Amy Klobuchar said that she is proud with the work of her team and satisfied with her performance during the debate.
"I am so proud the work that out team did," Klocuchar said.
"I am now in the top 5 for presidents and in two polls now in double digit in New Hampshire and one yesterday tied from second place so we pretty excited about that" she continued
Remaining on the same percentage since the 62% of Iowa caucuses result reveals, Andrew Yang responded over twitter by claiming that he wanted to see more results.
"I'll be interested in the remaining Iowa vote totals as I think there are many counties on the outskirts where we performed very well that have not yet come in"