D-Backs Fan Fest, player interviews, autographs and photos for fans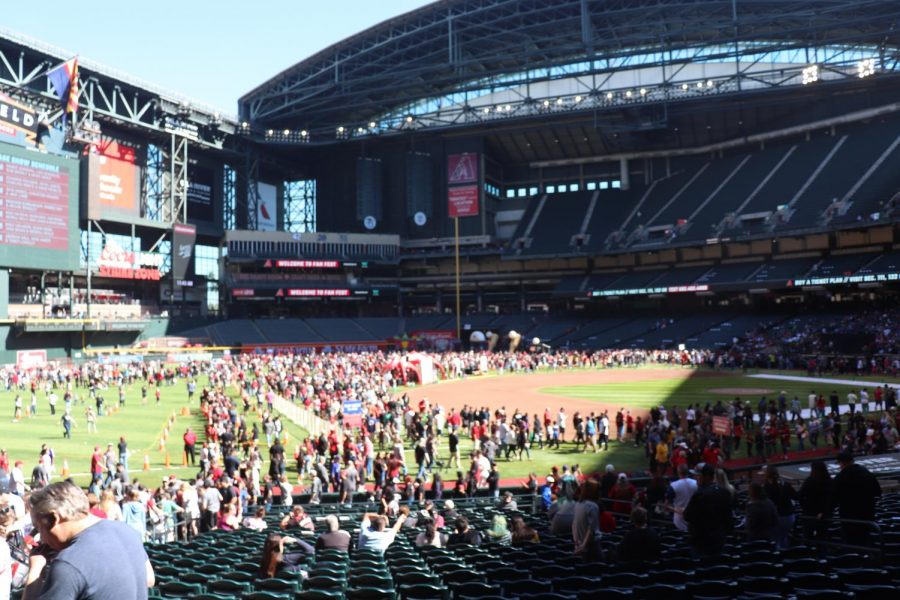 On Saturday, The Arizona Diamondbacks hosted their 2020 Fan Fest—an annual opportunity for D-back fans to interact with players and held at Chase Field.
The Fan Fest gives Diamondback's fans the opportunity to get "up close" and see the players in a different environment than on the field.
Fans had the opportunity to get player autographs and photographs as well as a "live" show featuring the D-backs players being interviewed by D-backs alumni as well as broadcasters.
There was also a behind-the-scenes Clubhouse Tour.
Many fans prepared for a full day and brought the entire family.
One fan, Thomas Schwank, spoke with Northeast Valley News about why he was there.
"Just to check out the stadium, hear what the players have to say, hear what management has to say, kind of a…, well a feel for the buzz as we go into the 2020 season," Schwank said.
"I'm not here for a particular player—I'm just a big fan of the Arizona Diamondbacks, but I am excited about Madison Bumgarner joining the team for 2020 and with "Madbum" in the roster Schwank said that he can't wait to see what the former Giants Player has going for the new season as the pitcher."
David Murow, another Diamondbacks fan, was quick to name his favorite player.
"Nick Ahmed—I follow Nick Ahmed on Instagram and Facebook," Murow said.
"He's a short-stop and he signed a new 4-year deal so we can root for him for the next 3 or 4 years."
"This baseball community brings an inviting environment where and develops bigger fans, and make future ones," Murow said.
Shay Sanders, appreciates the opportunity to get autographs and watch the players during interviews.
"It's just the feeling of being here with the other fans, getting to see some of the players, in kind of a more personal way," Sanders said.