NHL proposes plan to return to play, Coyotes get chance for playoff berth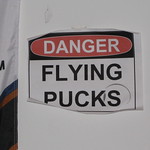 On Tuesday, the National Hockey League issued a media release outlining the league's plan to return to play with the top 12 teams in each conference, according to their point totals when the season paused.
According to the document, the regular season would be declared over as of March 11.  The league paused its season on March 12 due to coronavirus concerns.
The season would apparently restart in a playoff format whereby the top four teams in each conference would play a round-robin tournament to determine their seeding in the playoffs.  The remaining eight teams, based on their points percentage at the end of the pandemic-shortened season, would play a best-of-five games qualifying round.  The winners of the qualifying round would go on play the top four teams in their conference in the first round of the playoffs.
Under this format, the Arizona Coyotes (11) would face the Nashville Predators (5).
According to the Coyotes website, the last time the team was in the playoffs (2012) they eliminated the Predators in five games.  This season, the teams faced each other twice, with both home teams notching a victory.
The league has not yet determined the length of the first and second rounds of this year's planned playoffs or whether they will use a bracket or seeding format.
The conference finals and Stanley Cup finals will be seven game series as usual.
The league announced in the same release that several cities are being considered as the two "hubs" where teams would play their games.  Each conference would have a "hub" city where teams from that conference would use secure hotels, practice facilities, arenas and transportation to help ensure player safety.
Cities being considered for "hubs" include Chicago, Columbus (OH), Dallas, Edmonton, Las Vegas, Los Angeles, Minneapolis, Pittsburgh, Toronto and Vancouver.
Although the league has not set a firm time schedule for its return to play, it hopes that players can return to their home facilities for voluntary on and off-ice training in early June.  They are stipulating that training camps should not start until after mid-July.
All plans will be contingent on the current coronavirus situation, availability of testing and individual state conditions or restrictions.