Governor Doug Ducey announces #MaskUpAZ campaign and signs executive order for contact tracing to be in effect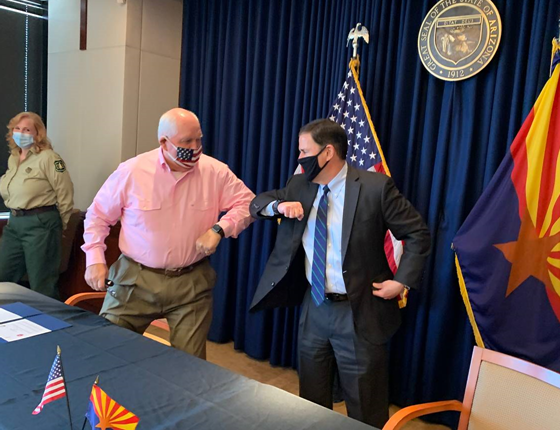 Governor Doug Ducey commented on Wednesday about his stance on re-opening the economy amidst record-high positive COVID-19 cases in Arizona that have been recorded over the last few weeks. 
Ducey encouraged Arizonians to wear masks and to be responsible to stop the spread of COVID-19 by continuing to follow the CDC guidelines.
Local governments now have  the authority to make wearing masks in public mandatory according to a KTAR article published on Wednesday.
This marks a shift for Ducey, from initially claiming the increase of cases was  due to an increase in testing and stating that hospitals were well-prepared for an increase in patients, to publicly showing hand sanitizers and the Governor himself  entering the press conference with a face mask.  Something he had not done previously.
According to the KTAR article, the number of cases reported in Arizona have increased with the amount of testing, but so has the percentage of tests that are coming back positive. 
By Wednesday morning the Arizona Department of Health Services reported 1,827 new coronavirus cases and 20 additional deaths.
Wednesday's case numbers were the second-highest total reported in a single day, behind the 2,392 reported a day earlier according to the Arizona Department of Health Services. 
As of the beginning of the week, Sen. Krysten Sinema, and Reps. Ruben Gallego and Greg Stanton have been pushing for face-covering requirements, and the mayors of Phoenix, Tucson, Nogales and Flagstaff have been seeking the ability to enact local mask regulations, according to KTAR article.
Gov. Ducey has initiated campaigns on social platforms to #MaskUpAZ which encourage Arizonans to wear facial coverings in public.
"I want to be clear," Ducey said. "We recommend that all Arizonans wear a face mask whenever you can't socially distance. At the grocery store, at the pharmacy, at the bank."
Another system that Gov. Ducey announced in an executive order on Wednesday press briefing was implementing the National Guard to provide supplies and resources to enact contact-tracing, according to another KTAR article.
Contact tracing is a strategy that has been used to establish those who may be at risk for becoming infected.  When a positive cases arise, contact tracing requires the individual to provide the names of anyone that they may have come in contact with before knowing they were infected. The officials then warn those individuals who may have been exposed and encourage them to stay home or socially distance themselves for 14 days while monitoring themselves for any symptoms.
"We need to redouble our efforts and we need everyone to do their part," Ducey said in a statement. "We will continue to closely track the data, work with officials around the state and make this our highest priority."
Additionally, the state will fund $10 million for more personal protective equipment and face masks for healthcare and front-line workers, according to the article. 
The University of Arizona and Arizona State have partnered with the state in effort to fight COVID-19.
UA is providing 250,000 serology tests for health care and public safety workers.
ASU is working on saliva-based testing which requires less PPE.