Artichokes look to playoffs after a Thunderbird roast
The SCC Artichokes won their seventh straight with a focused offensive attack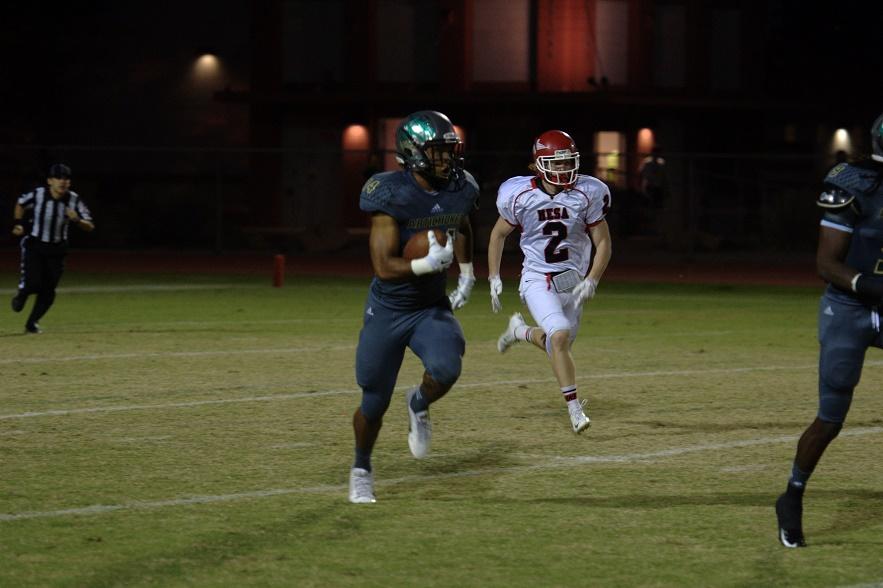 Nicholas Tirella, Reporter
October 19, 2014
Unfazed by pre-game smack talk from Mesa, the SCC Fighting Artichokes did what they usually do: win big.
The sixth-ranked Artichokes beat the Mesa Community College Thunderbirds 56-29 on Saturday night. Before the game even started, there was smack talk coming from the Thunderbirds' camp all week prior to the game. SCC and Mesa battled it out last year, as they played each other three times in one season: regular season game, playoff game and then the final bowl game. This meeting was physical, as popping of helmets and shoulder pads echoed through the stadium louder than ever before. The Thunderbirds came out hot in the first half with the hopes of beating the Artichokes; they looked to take a 17-13 lead into the halftime locker room. Then the Artichokes took the lead thanks to a 45-yard Thaddeus Thompson touchdown catch. The Thunderbirds were then silenced with one minute left before the half as a pass into the end zone was picked off by Cloves Campbell for a 98-yard touchdown return—not dissimilar to his momentum-swinging interception against Phoenix College.
"It was a real momentum change even with the game so close," Campbell said. "It really brought the whole team up."
The defensive line continued to bring pressure on the Thunderbirds and the linebackers were physical throughout the game. The corners struggled a bit, as most of the Thunderbirds plays came from passing. The coverage was average and tackling and wrapping up opponents still seemed to be an issue for the Artichokes.
Offense looked much more focused than last week, and the Artichokes were able to move the chains all game. They came out stronger in the second half and their aerial attack sliced up the Thunderbirds. The offensive line was good throughout the game, too, as the protected their quarterback and helped the halfbacks run through the Thunderbirds defense.  Quarterback Michael Sanders threw to more than five receivers and usually had no problem finding someone open. Za'Quan Summers was one of those receivers, and he made the most of his quarterback's throws and team blocking.
"I thought the offense did good (sic)," Summers said. "We were balanced and made some plays when we needed to."
The Artichokes notched their seventh straight win with a physical and more focused performance. Everyone on the team expected no less from themselves that they would make the playoffs this year.
"I thought we did better this week, came out a little flat but we came out to play in the second half," head coach Doug Madoski said. "Now it's really about going to the playoffs and trying to figure out a way to go out and win the first round."