Arizona Coyotes end eight year playoff drought, will face Colorado Avalanche in Western Conference quarterfinals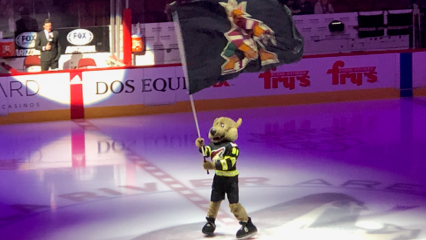 Every sports fan can rattle off a dozen clichés that we've all heard more times than we can count — but none seem to ring more true for the Arizona Coyotes entering their Western Conference quarterfinal series against Colorado than "goaltending wins championships."
Coyotes starting goaltender, Darcy Kuemper, was the hottest thing on two skates to start the regular season.  The former L.A. King and Minnesota Wild goalie was 15-8-2 with a league-leading .929 save percentage and had the Coyotes positioned among the leaders in the Western Conference when he was injured on Dec. 19 against, coincidentally, the Wild.
The team slumped to fifth in the Pacific Division during his absence.
Kuemper returned on Feb. 25, but didn't have much of a chance to get the team back on track before the league paused play because of concerns over the coronavirus a little over two weeks later.
After four months of uncertainty, Kuemper is back in net and Arizona is back in the playoffs for the first time in eight years.  Just like their early-season success, Kuemper is a major part of the reason that the Coyotes will face off against the Avalanche in their series opener on Wednesday afternoon.
In the qualifying round against Nashville, Kuemper faced 163 shots (more than any other goalie in the tournament) and made 88 saves in the second two games of the series.  He maintained a stellar .933 save percentage and a solid 2.77 goals-against-average.
Over the last two seasons, the teams have met six times and the Coyotes have only won two of those outings.  Arizona does have good, albeit distant, memories of the last time they faced Colorado back on Nov. 2 at Gila River Arena when Kuemper recorded his first shutout of the regular season after the offense chipped in with three goals in support.
Even with the addition of Taylor Hall to the offensive lineup, the Coyotes probably shouldn't plan on simply outscoring the Avalanche.  In addition to Hart Trophy finalist and fifth highest scorer in the NHL, Nathan MacKinnon, Colorado also boasts high-scoring defenseman Cale Makar and Finnish goal-scorer Mikko Rantanen.  When you sprinkle in streaky-good players like Andre Burakovsky, Nazem Kadri and Joonas Donskoi, the Coyotes defense will likely need to protect Kuemper better than they did against Nashville — because there's another sports cliché that warns against going to the well too many times.