Arizona Coyotes Announce Purple Reverse Retro Jersey for 2020-21 Season
The Arizona Coyotes in partner with the NHL and adidas have announced a new purple Reverse Retro alternate jersey for the 2020-21 season.
adidas worked closely with the NHL and each team to design the Retro Reverse jersey. Each jersey represents unique and historical moments in team history. It also refreshes the color and design of each jersey.
All 31 NHL teams will have the new Reverse Retro ADIZERO Authentic alternate jerseys this season. This is the first time in NHL history that all 31 teams will participate in a League-wide alternate jersey program.
The Coyotes purple Reverse Retro alternate jersey is modeled after the club's green third jersey from 1999-2003.
The Coyotes will wear these jerseys for a select number of games this season. Dates will be revealed once the NHL schedule for 2020-21 has been announced.
"We are extremely excited to introduce our new purple Reverse Retro alternate jersey," said Coyotes President & CEO Xavier Gutierrez via press release from the team. "We are confident that our fans will love the cool changes to this classic jersey – especially the purple color that was inspired from our crescent moon logo. This is a great opportunity for us to grow our brand with a new unique and innovative jersey and connect with our Coyotes fans and our Coyotes fans in waiting."
The Coyotes introduced their first alternate green jersey and uniform on February 3, 1999. Players at the time Keith Tkachuk, Jeremy Roenick and Teppo Numminen took part of the unveiling at Alice Cooperstown in Phoenix.
The alternate was first worn by Coyotes players on February 6, 1999 in a game against the Chicago Blackhawks.
The jersey was an expression of the American Southwest. The large Peyote Coyotes head from the Kachina logo was the primary logo with the trim of the green jersey revealing a desert scene at night with two saguaro cacti in the foreground and the Coyote moon rising over the unique desert mountain landscape. A native gecko decorated each shoulder.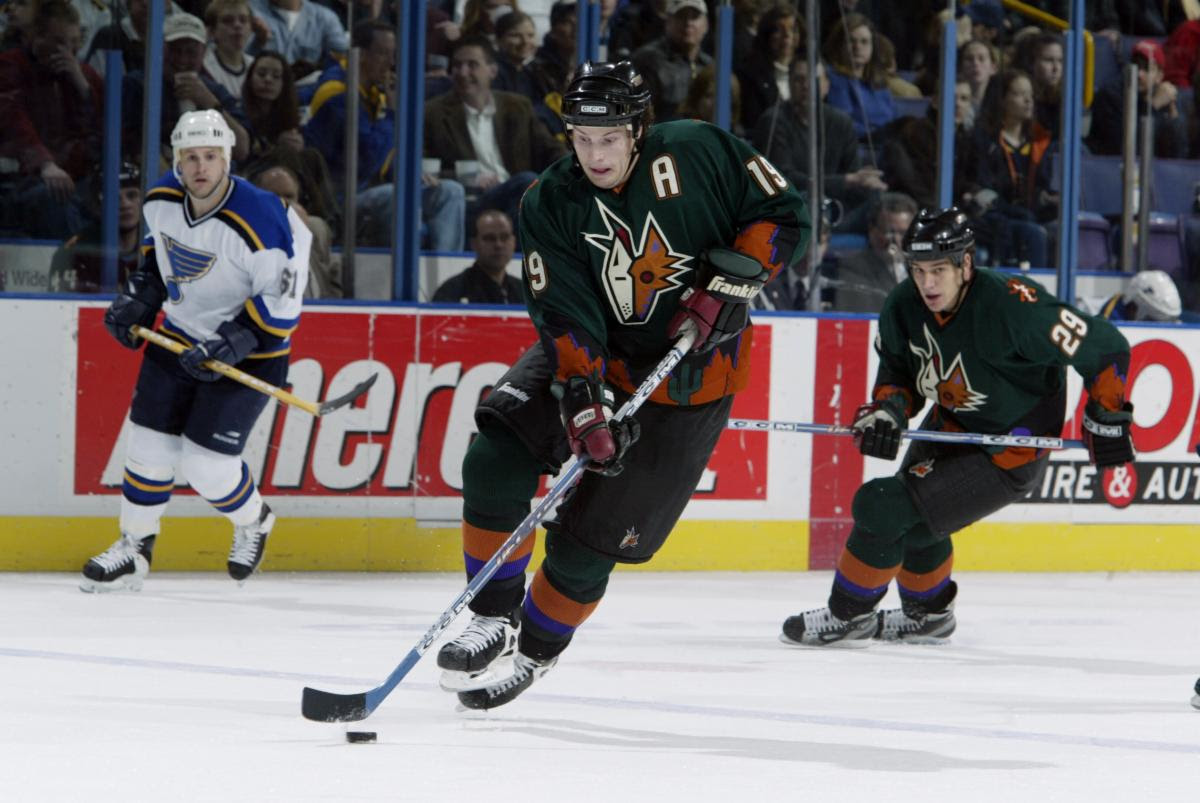 The Coyotes are celebrating 25 years in the valley this season. The team has previously unveiled two new logos that will be featured on their home and away jerseys this season. The Coyotes are also bringing back the crescent moon home ice this season, it will be showcased at center ice for all home games.
The Coyotes will also wear their black Kachina jerseys for 25 games at Gila River Arena and the jersey numbers will be outlined in silver for the Coyotes' Silver Anniversary.