Arizona Coyotes trade Ekman-Larsson, Garland to Vancouver; acquire Gostisbehere from Philadelphia
The Coyotes finalized two significant trades before Friday's NHL Draft
After months of speculation and rumors, Arizona Coyotes captain Oliver Ekman-Larsson is leaving the desert.
Ekman-Larsson and forward Conor Garland were traded to the Vancouver Canucks on Friday afternoon for forwards Antoine Roussel, Jay Beagle, and Loui Eriksson, as well as the ninth overall pick in the 2021 NHL Entry Draft.
Ekman-Larsson was drafted sixth overall in 2009 and eventually took over the captaincy from longtime leader Shane Doan. The defenseman's contract still has six years left to run, and the money he's still owed is viewed as a principal reason for his departure. He played in 769 games as a Coyote, scoring 128 goals with 260 assists.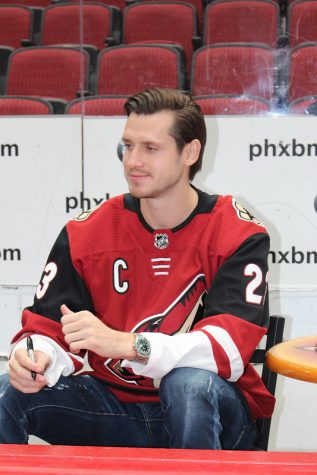 Garland was a top target when it came to trade talks with the Coyotes. Mentioned early and often before last season's trade deadline, it was only a matter of time before his tenure in the Valley came to an end. Garland was a consistent producer in his three seasons with the Coyotes, registering 96 points in 164 games.
Eriksson, the No. 33 overall pick in 2003, has played in 977 career games and accumulated 594 points, with 250 goals and 344 assists. The left-handed shooting Swede played in only seven games last season before being assigned to the Canucks' taxi squad.
Roussel, who came into the league as an undrafted free agent, has netted 81 goals and set up 108 assists across 554 career games. He appeared in 35 games last season.
Beagle's acquisition adds another ring-bearing veteran to the Coyotes' locker room.  He signed undrafted with the Washington Capitals for the 2007-08 season, and he was still a Capital when the team won the Stanley Cup for the first time in 2018. Phil Kessel, Niklas Hjalmarsson and Alex Goligoski are the other Coyotes to have won the Cup in their careers.
Tyler Pitlick going to the Seattle Kraken in the expansion draft created a gap in the lineup that the Coyotes needed to fix without help from their forfeited No. 11 overall pick. The Coyotes had to give up a second round pick last season and their first round pick this season because of combine testing violations, which was a motivation to be active on the trade market.
Friday's addition of the ninth overall pick created a number of draft scenarios for the Coyotes after the trade for Philadelphia Flyers defenseman Shayne Gostisbehere, along with second and seventh round picks in this year's draft. The Coyotes later used the first-round selection from Vancouver to draft Dylan Guenther from the Edmonton Oil Kings.