Kari Lake's run for governor stokes flames of anti-GOP organizing
The tough-talking Lake has falsely claimed the 2020 election was stolen from Donald Trump — and observers are worried about her possible ascendance to Arizona's governorship
Arizona will elect a new governor in 2022 after Doug Ducey's second term expires. Including Ducey, four of the state's past five governors have been Republicans — and the party will look to maintain its hold on the office next year amid what is likely to be a heated race. Cook Political Report, the electoral analysis site, has rated Arizona's upcoming gubernatorial battle as a "toss up."
In a preview to what's coming in 2022, probable voters are already split. Polling indicates no candidate in either party has reached the 50 percent threshold regarded as a barometer of likely election success.
But the current Republican frontrunner, former news anchor Kari Lake, is drawing rapt attention from her base — and strong resentment from her detractors.
"To be clear, (Lake) is arguing the most legitimate and verified election in United States history was fraudulent, that if she had been in office she would have refused to certify the election," political scientist and Strike PAC organizer Rachel Bitecofer told Northeast Valley News. "And that makes her basically guilty of treason."
The hyper-partisan political environment in the United States has proven a suitable breeding ground for a gubernatorial candidate in Lake's mold. The 52-year-old, who previously helmed Fox 10's news desk, resigned her position at KSAZ in March and has repeatedly denigrated news media since she announced her run for office. She has even smeared certain journalists as "criminals," advocating for their imprisonment.
Though she is often referred to as a former journalist (and refers to herself in this manner), the eloquent Lake has routinely embraced conspiracy-laden extremism and blatant lies — even while ostensibly employed as a reporter. She has decried non-existent election fraud for years, and she dined recently with QAnon proponent Ron Watkins.
Lake further indicated in a recent interview that she would have refused to certify the 2020 election had she been Arizona's governor.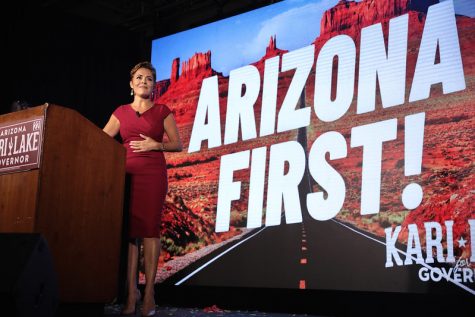 "Not certifying a legitimate election in America would end American democracy as we know it," Bitecofer said. "I think that is a pretty big threat."
In addition to her stance on election integrity, the nominally pro-life Lake is vehemently anti-mask and vociferously anti-vaccine. Accordingly, she has spent the vast majority of the coronavirus pandemic propagating COVID-19 falsehoods. More than 20,000 Arizonans have died from COVID complications during the pandemic.
Lake's skyrocketing public profile has resulted in her campaign securing a major endorsement from former president Donald Trump. Disgraced former general Michael Flynn and MyPillow CEO Mike Lindell — now a prominent far-right figure — have also thrown their support behind Lake in recent weeks, arguably cementing her as the early favorite before the Republican primary next August.
"Lake and the rest of the GOP primary candidates are doing everything they can to prove they are the most extreme, far-right candidate," Arizona Democratic Party spokesperson Alex Alvarez told NEVN. "They are out of touch with real Arizonans and only interested in pleasing Donald Trump and his conspiracy theorist base."
Lake's viral comments touting fringe theories and repeating debunked right-wing talking points have led organizers such as Bitecofer to begin preparing for a significant resource expenditure in Arizona next year, in an attempt to halt the gubernatorial hopeful's rapid ascent.
"I'm going to make sure that Strike PAC is there in Arizona, to make sure that Arizona voters…understand the threat that they're facing with these GOP legislators and governors," Bitecofer said.
"Strike PAC is going to come in and make no line of separation between Kari Lake, Donald Trump, and the entire Republican Party. All of them. And then, we'll make it very clear to voters how that personally threatens them."
Multiple efforts to reach the Lake campaign for comment were unsuccessful. Arizona Republican Party spokesperson Dan Godzich told NEVN the party will not take an official stance on Lake's campaign or others for some time yet.
"We don't weigh in until after the primary," Godzich said.
Leave a Comment