Two progressive candidates aim to shake up Arizona politics
Meet "Las Anas" — Anna Abeytia and Analise Ortiz are running for the state House, advocating progressive solutions to issues facing Arizonans
Races across the nation are starting to heat up as primary battles take shape ahead of the 2022 midterm elections in November. And before the August primaries in Arizona, Anna Abeytia and Analise Ortiz want the state's voters to know that local elections mean even more than those determining federal positions.
"A lot of people might not understand the importance of state legislative races. You must go all the way down the ballot, because otherwise, candidates like Senator (Kyrsten) Sinema carve their pathway to power through these smaller races," Ortiz told Northeast Valley News in an exclusive interview.
As the COVID-19 pandemic rages on and Arizonans grow increasingly jaded with Sen. Sinema's job performance, Abeytia and Ortiz are running for the Arizona House of Representatives out of LD 24, the legislative district encompassing Glendale and the Maryvale neighborhood in the West Valley. Ortiz is a former journalist who has worked with the American Civil Liberties Union, while Abeytia has been a member of the Cartwright Elementary School District Governing Board since 2020.
"Young voters are upset, and it's disappointing for them because they were handed all these promises but then nothing was actually brought to the table for them," Abeytia told NEVN. "I think they're tired of seeing fake people running for office. We need to have real people in the community stepping up."
"Las Anas" are campaigning on a decidedly-progressive platform. Ortiz's website outlines her position as a civil rights advocate who will fight for expanded healthcare, stringent rent control, and better conditions for workers.
"We both want voters to know that we will put working families first and fight for them," Ortiz said.
"
I think young voters are tired of seeing fake people running for office. We need to have real people in the community stepping up.
— Anna Abeytia
As a school board member, Abeytia values education highly, and she champions robust funding for teachers and schools. The U.S. News and World Report ranks Arizona 47th out of the 50 states in pre-K through grade 12 education.
"I think education is going to be the biggest conversation during this 2022 election. We really need to have better funding for education. We need to support our teachers. We need to support our school psychologists," Abeytia said. "We also need to support our special education programs, especially here in Arizona. We have a very big issue when it comes to representation for people with disabilities in this country, and it's sad that our students are definitely down at the bottom."
"The people who have held power for so long in Arizona, the Republican Party, have manipulated the messaging in many ways, claiming they care about education when at the same time they are gutting our public school funding, " Ortiz concurred. "Making what's actually happening very clear to voters is key to helping bring them along."
Neither Abeytia nor Ortiz shares any reservations about running as progressive Democrats in a time when prominent centrist lawmakers are wary of candidates who run "too far left." Abeytia pointed out that policies regarded as "too leftist" — such as universal healthcare and sweeping climate legislation — have broad support from voters nationwide.
"I don't know how other people negotiate, but for me, I'm going to give you the list of things that I want, and we're going to have a conversation about every single one of those things," Abeytia said.
"I think people are overwhelmed by the word 'progressive.' We need to continue to have deeper conversations with voters rather than just having conversations with Democrats. We need to have real conversations with Republican voters as well, so they understand we're actually talking about the same thing."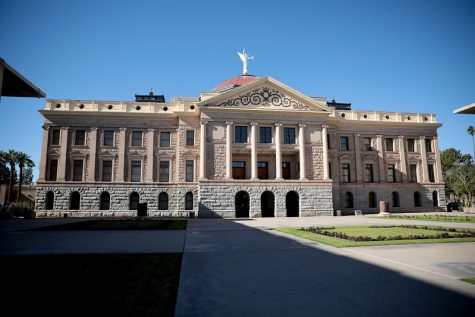 For Ortiz, this equates to being a determined presence locally. She wants to ensure she is always visible and at the ready for her potential constituents.
"I want to be incredibly accessible to the community, and go to them first — showing up at the community meetings, school board meetings, and to people's doorsteps to say 'what do you need right now?'" Ortiz said. "Do you need help finding a doctor that will accept your insurance? Do you need help finding a place to get your tire changed because you hit a pothole for the 12th time because the City of Phoenix won't fix the potholes in your neighborhood?"
The primary elections on Aug. 2 will have implications that reach far beyond Phoenix's city limits. Abeytia and Ortiz keenly understand this, and they're excited to knock on doors, get on the ballot, and meet the challenge — before and after Nov. 8.
"I feel like it's a critical turning point for our country, and I think it is critical that young people are stepping up with new ideas, bold ideas," Ortiz said. "I just feel like 'if not now, when?'"
Leave a Comment