Suns take down Magic at Footprint Center
The 27-point win boosts the Suns' record to 46-10
The Phoenix Suns routed the Orlando Magic 132-105 in Downtown Phoenix on Saturday night, maintaining a 4.5-game lead atop the NBA's Western Conference.
"Together, we can do a lot," head coach Monty Williams said when asked to summarize his team's current play.
The game was never too close for comfort for the home team. After an alley-oop from point guard Chris Paul to center Deandre Ayton, the Magic switched to a smaller lineup to try and combat the Suns' quick half-court play. But Phoenix won the first quarter 36-26 anyway, racking up 11 assists to the Magic's five. The Suns finished with 40 assists on the night, a season-high.
The Suns' sterling ball movement allowed them to double up the Magic on points in the paint in the first half, 40-20). Phoenix shot over 50 percent from the floor, an impressive 28-for-54, on their way to a 67-53 halftime lead.
"I think it's the way we try to play," Williams said about the emphasis placed on sharing the basketball.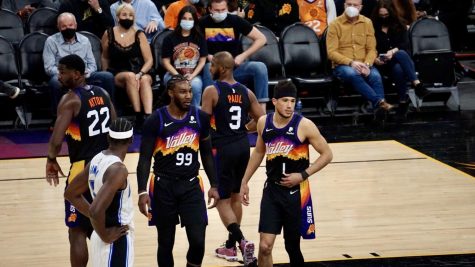 The lead swelled to 22 after three quarters. Constant dribble penetration and Devin Booker's shooting ability allowed the Suns to continue torching the Orlando defense, and the Magic offense never compensated. The visitors shot only 11-for-27 in the third as the Suns were cruising to victory.
Trade deadline acquisition Aaron Holiday had his time to shine in the fourth quarter. He racked up 10 points in his nine minutes of game time as the team with the NBA's best record flashed even more scoring depth.
Forward Torrey Craig, who also arrived at the trade deadline, finished with 14 points in 23 minutes. He was thrilled about the final score and about returning to Phoenix.
"How can you not want to play here?" he asked postgame.
The Suns are 46-10 overall and 20-4 against teams with a sub-.500 record. Their next game is against the 28-30 Clippers on Tuesday night.
Leave a Comment