SCC beats Snow College in thriller, moves on in playoffs
The Artichokes won a classic to set up a rematch with Eastern Arizona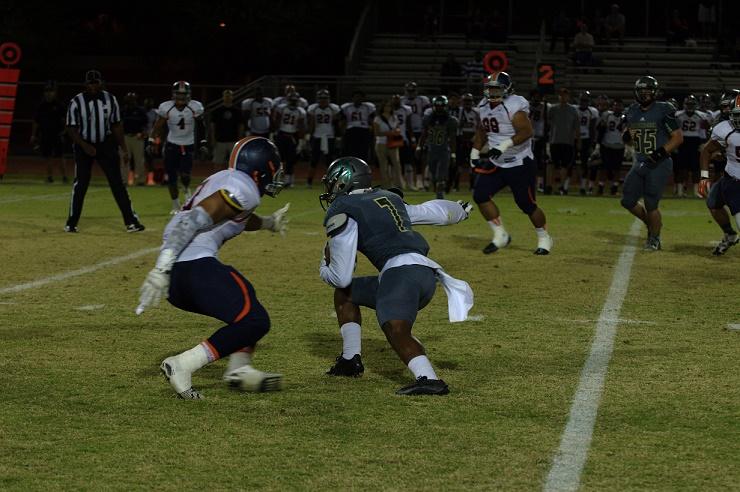 Nicholas Tirella, Reporter
November 2, 2014
A back-and-forth, hard-hitting playoff classic ended with a familiar result: an SCC win, and survival in the playoffs.
In an unbelievable battle to the end in the playoffs, the SCC Fighting Artichokes defeated the Snow College Badgers 43-42. Neither team had an advantage over the other, and thus created a perfectly even matchup. Both teams wanted to win this game, and it showed, with multiple scuffles in between plays and each team scoring right after the other.
The Artichokes offense moved the ball well throughout the game, but fired up in the second half when Michael Sanders found open receivers for touchdowns due to poor coverage on the Snow College side. Mistakes on both sides of the ball for both teams ensured that it would be difficult to gain the upper hand in this battle.
"We kept shooting ourselves in the foot when we got down close," quarterback Michael Sanders said. "We could've had more points, but we got one more point then them so that's all that matters."
The Artichoke defense also played well, but struggled to execute the little things, like getting more pressure to the quarterback and taking advantage of mistakes the Badgers offense made with penalties. Tackling was again a concern all night with the Badgers slipping past multiple players for large chunks of yards. Some passes got through the secondary, but the Artichokes were much better than last game, when coverage was an issue. The secondary had four interceptions from three different players. Niko Brown's aggressive coverage and tackling, combined with Clovis Campbell's great hands, forced the Badgers to run the ball much more than they wanted.
"I think our secondary has come a long way," defensive backs coach Darrell Dawson said. "I'm pleased with what we've done with the secondary and the message in today's game was 'let's be the guys that make a difference.'"
Head coach Doug Madoski was very pleased with the win and knew that the team would rise to the occasion when it mattered most.
"I think the biggest thing we did was that we found a way regardless of the situation," Madoski said. "We knew it be a close game and it was great to see the guys come out and keep grinding together."
The Artichokes' next game will be against Eastern Arizona College—the only team to have beaten the Artichokes this season, thus setting the stage for a dramatic rematch.