Cleveland Guardians pitcher Cody Morris makes the most of late-season MLB debut, hopes to stay healthy in 2023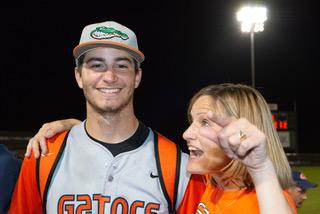 Cody Morris made his MLB debut in early September, and the 6'4" right-handed pitcher has shown that the club's thirteenth ranked prospect has the potential to become a key piece of the Cleveland Guardians' future rotation.
On Sept. 1, MLB teams were allowed to expanded their active rosters by two players.
The night before the scheduled expansion, Morris received the much-anticipated call from the Guardians to become part of the 28-man active roster.
After only one day in Cleveland, Morris was promptly scheduled for his first career start the following day, against none other than the American League rookie of the year Julio Rodriguez and the Seattle Mariners.
"I was so excited and so nervous to make my debut. It was a really crazy day. There's so many different emotions that I was feeling," Morris said.
In his first start, he gave up three runs, while striking out four and walking three batters across two innings.
Before getting the call-up to the "Bigs", the former South Carolina Gamecock had been pitching consistently in the Minor Leagues and putting up impressive stats.
In 2021, between AA Akron and AAA Columbus he posted a 2-2 record with a 1.62 ERA and 93 strikeouts over 61.0 innings.
It seemed like the only thing holding him back was staying healthy.
It's what he told Northeast Valley News he is striving for in 2023.
"I've had a lot of injuries and my main goal this year is to be healthy the whole year," Morris said.
If he can stay healthy the whole season, Morris will add a valuable right-handed arm to the starting rotation and bullpen which ranks No. 5 in the League.
 The Guardians appear to be a fun, loose, and energetic team on the rise. They went 92-70 last season, winning the AL Central, and taking the New York Yankees to five games in the ALDS.
"We have such a young and exciting team and our vibe in the clubhouse is unmatched. We have a really special group and we expect to win next year," Morris said about what he is most excited for next season.
Morris finished the 2022 regular season going 1-2 with a 2.28 ERA to go along with 23 strikeouts in 23.2 innings of work.
He was added to the division series roster versus the New York Yankees, an indicator of how well he pitched in the seven games he played in September.
He pitched in game four of the ALDS, throwing two shutout innings while striking out three.
The Guardians look be a team to watch for next season and beyond. A mix of young players and seasoned vets, always seems to be a recipe for success.