Is Rep. Andy Biggs out of touch with Arizonans?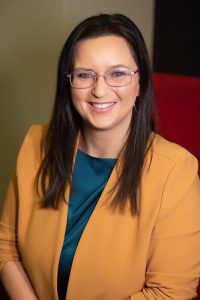 Katrina Schaffner thinks so.
The Ukrainian-American and east Mesa local announced her campaign against Biggs in mid-October to challenge him for Arizona's 5th District House seat in the 2024 election.
Schaffner, a former cosmetologist and stay-at-home parent, is an active community member as a volunteer with Cactus and Tryzub, a Ukrainian support initiative and activist group she joined over one year ago.
In an interview with Northeast Valley News on Saturday she voiced her concern for the current office and its disconnect with the community.
"Andy Biggs is an anti-American insurrectionist, and I got frustrated with the system," Shaffner said commenting on her decision to file. "We have serious problems that we're facing every single day and Andy Biggs is concerned with fake culture wars."
On top of slashing aid to Ukraine, most recently Biggs voted with house republicans Thursday to pass the $14.3 billion Israel aid bill that would cut funding to the IRS. The bill has been called a nonstarter by democrats in the Senate and a confirmed veto by President Biden.
Meanwhile, Arizonans are dealing with problems on the ground like inflated gas prices, cost of living, medical debt, poor education and now a heightened disagreement over foreign policy.
Schaffner remains positive for her campaign, however, noting a changing demographic in the historically Republican 5th District with more Democrats moving to the area and Republicans getting frustrated that no one is willing to challenge Biggs.
"I think the biggest challenge is going to be connecting with moderate republican voters," Schaffner said.
Her next steps are focused on fundraising for her grassroots campaign. Schaffner expressed gratitude for the community members willing to put in the work, noting specifically the guidance she's received from women running in other districts and local elections.
"There's been a lot of sharing resources, sharing knowledge and sharing support to help each other get over some of these hurdles," Schaffner said. "It's really been an amazing, incredible experience for me."
Her campaign policies will center around the economy, education and national security with an emphasis on connecting with local communities.
Schaffner says her community-based political ideology is inspired by her grandparents, who emigrated to the U.S. after escaping Nazi Germany. She recalled their stories emphasizing small acts of kindness that helped them survive, and noted this is what our country needs.
"Right now people don't have faith and trust in our institutions," Schaffner said. "I want them to know that they're heard, they're being listened to, that someone is out there to hear them, to see them and to advocate for them."