"For someone who's been dodging military service for years, he has a big mouth when it comes to Vets," Iraq war veteran Tobias Campbell tells Northeast Valley News. 
Former US President Donald Trump has been ramping up his shocking rhetoric we are accustomed to—but to an even higher level.
In a recent Axios report,  "Former President Trump didn't want to visit a cemetery near Paris for Americans who fought and died in World War I because it was filled with "suckers" and "losers,"  John Kelly, Trumps longest-serving Chief of Staff told CNN in a statement in Oct.
Most recently, Trump implied that the country's top military officer should be executed and has maliciously joked about the elderly husband of a democratic foe being attacked in a home invasion. 
Trump's recent Hitler language is equally alarming but for many Arizonans, antisemitic rhetoric and code from GOP/MAGA candidates and lawmakers is not new.
But Trump may have gone too far last week with his comments about illegal immigrants—remarks so debase that the Anti-Defamation League, a Jewish advocacy group, "saw echoes of Nazi rhetoric."
"Nobody has any idea where these people are coming from, and we know they come from prisons, we know they come from mental institutions, insane asylums, we know they're terrorists," Trump told the conservative news site, The National Pulse. "Nobody has ever seen anything like we're witnessing right now. It is a very sad thing for our country. It's poisoning the blood of our country."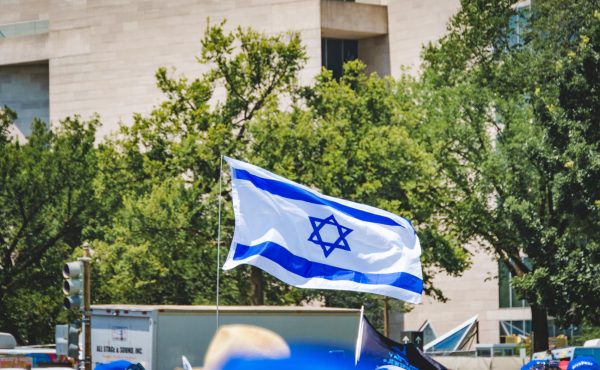 The "poisoning the blood of our country" that Trump told the news site is eerily reminiscent of Hitler's infamous words and actions that Jews were "causing a blood poisoning of Germany."
It has been said that when someone keeps telling you "who" they are…you should probably believe them.
Trump has been making unevidenced claims since his 2020 loss and the extreme culmination of inciting violence from his MAGA faithful that led to the Jan. 6 attack on the US Capitol. 
But Arizonans are used to antisemitic language and code words used for white supremacy and the "echoes" were loud across the state and were accompanied by some frightening allegiances.  
During the mid-terms, Arizonans saw GOP MAGA candidates unapologetically use antisemitic rhetoric and code in their campaign speeches. 
"There is a tidal wave of antisemitism in this state and it's alarming," said longtime Valley business owner and member of the Jewish community who spoke on the condition of anonymity over fear of threats and safety.
The 64-year-old business owner told Northeast Valley News that he is deeply troubled by growing antisemitism—but worse, the apparent acceptance of it on the part of many GOP political candidates and even some elected officials.
It's difficult to know how to respond to someone so legitimately frightened by the kind of antisemitic rhetoric and communication associated with several GOP candidates in Arizona.
He specifically referred to at least four candidates running for top offices in Arizona.
"They have endorsed antisemitic candidates in other states, posed with and attended rallies of white nationalists, some of them are funded by conspiracy theorists or are supported by Nazi sympathizers —why are these candidates even allowed on the Az. ballot?"
The business owner recently changed his party affiliation back to what it was when he was "much younger"— after almost two decades as a registered Republican he said he wanted to "drop any affiliation with the GOP."
While he has maintained a popular and successful small business for more than 21 years in Phoenix—he declined to go on the record with Northeast Valley News over fear of retaliation and threats.
The fear he spoke of about his own community is a horrific commentary on the "state of the state" in Arizona.
The candidates he discussed were running for some of the top offices in the state—all have been reportedly called out in the media for their endorsement of hate-filled antisemitic candidates, and some for their own use of specific rhetoric in their campaign speeches or social media communications.
Kari Lake, the former GOP candidate for governor, and Mark Finchem, the former Republican nominee for Secretary of State, both endorsed Jarrin Jackson a widely reported, loud and venomous antisemitic—the endorsement was shocking—and yet, both candidates continue to drop specific language and use names that are recognized among far right platforms as a dialect of antisemitic meaning and a "white replacement" manifesto.
But many in the Jewish community recognize this "code" language for exactly what it is—antisemitism.
Arizona Secretary of State nominee, Mark Finchem's tweet read:
"Democratic politicians on the ballot in Arizona are liars and deceivers. They want total control     over you and our state. Their loyalty is to George Soros and Mike Bloomberg. They want Arizona to be like California. Do not be deceived."
Reportedly, and in response to the Finchem tweet, the Jewish Community Relations Council of Greater Phoenix tweeted,"@RealMarkFinchem: your reliance on #antisemitic tropes to spearhead your campaign is an embarrassment to the majority of #Arizona residents."
Lake had reportedly been called out for doing the same.
The Arizona Republic wrote, "Lake, like her kooky conspiracy cohort, Mark Finchem, the Republican candidate for Arizona secretary of state is constantly bringing up the name of George Soros, which she knows is a Jew-hating dog whistle for the antisemitic base of the Trump-controlled GOP."
According to The Daily Beast, former GOP Secretary of State candidate, Mark Finchem "had his fundraiser co-hosted by a self-identified "truther" who adheres to the QAnon conspiracy theory and has spent years propagating baseless lies like the Sandy Hook shooting being a "false flag" and Sept. 11 being an "inside job."
Blake Masters, the former U.S. Senate candidate has reportedly and repeatedly lied about being endorsed by a widely reported antisemitic—namely, Gab CEO, Andrew Torba—the endorsement of Masters by Torba went even further when Torba said he'd vote for Masters over Trump.
Torba is the founder of the far-right social network, and openly antisemitic. He recently made headlines by insisting that Christians are "done being controlled" in "our own country" by the 2 percent minority—by which he meant Jewish people—adding, "We're not bending the knee to the 2 percent anymore."
Master's reportedly lied about his non-association with Torba in an early campaign denial in which he rejected Torba as a "a nobody"—  but in a leaked audio, obtained by Jewish Insider— Masters is clearly associated with the far-right social media entrepreneur, whose platform entertains such extremist views and antisemitic rhetoric that it has been removed from both Twitter and Facebook.
Abe Hamadeh the former GOP pick for Attorney General has also, through his own rhetoric, sown the seeds of antisemitism.
In an online forum, Hamadeh once wrote, "If you think Jews aren't big in America (2%) how come 56% of them are CEOS…Jews are influential and for the most part rich. It's good we're targeting Arabs now, next, we will target Jews,"
Even though they have each denied being antisemitic, Lake, Finchem and others continue to drop the name George Soros and even Mike Bloomberg in campaign speeches and communications—both men are Jewish—and both, according certain recognizable antisemitic rhetoric, are responsible for America's ills.
Data published by the American Jewish Committee reports that one out of every four Jews in the U.S. has been the subject of antisemitism over the past year.
Updated from Northeast Valley News original publication Sept. 26.