2015 NBA playoffs promise drama, intensity
The 2015 NBA playoffs begin today, and the West is best
A grueling 82-game regular season concluded Wednesday night, and at last, the NBA postseason begins Saturday morning. Sixteen teams – eight in each conference – will battle for the right to be known as "NBA champions." Of course, some teams have more of a chance than others, and as it so happens, many of those teams are in one conference.
EASTERN CONFERENCE
1) Atlanta Hawks (60-22) / 8) Brooklyn Nets (38-44)
The Hawks were one of the league's surprise teams this season. Atlanta won a franchise-record 60 games and sent four players to February's All-Star Game, all while playing an exciting brand of team basketball that emphasizes ball and player movement to space the floor and unleash a barrage of three-pointers. The Nets, on the other hand, are a bore to watch and only qualified for the playoffs on the final day. Look for the Hawks to win this series in four straight games, five games tops.
2) Cleveland Cavaliers (53-29) / 7) Boston Celtics (40-42)
Buoyed by the free-agency return of superstar LeBron James, the Cavaliers' rebuilt veteran roster overcame early-season adversity and won 34 of the final 43 games to clinch the East's second seed. While Cleveland's high-powered offense was built to play in April, Boston's qualification came as a surprise. Expected to miss the playoffs by some margin, the rebuilding Celtics swung a deal for Suns guard Isaiah Thomas in February, and his arrival carried the team into a weak Eastern Conference playoff field. The Cavs could be tested at times, but will win this series with relative ease. Along with the Hawks, the Cavs are favored to win the East.
3) Chicago Bulls (50-32) / 6) Milwaukee Bucks (41-41)
Perennial contenders Chicago are as healthy heading into the postseason as they have been since 2012 – except they are not close to as good as three years ago. Still, the Bulls have that tough defense and a much-improved offense (mainly attributable to the development of guard Jimmy Butler), and should come out on top against Milwaukee in a battle of stiff defenses.
4) Toronto Raptors (49-33) / 5) Washington Wizards (46-36)
Toronto and Washington are both young teams led by All-Star point guards. However, both teams arguably underachieved during the regular season. Kyle Lowry's Raptors won the Atlantic Division again, but did not take the expected leap forward after a breakthrough 2013-14 season. Ditto for the Wizards, a very talented team led by John Wall but hampered by erratic play and poor coaching. Toronto has home court advantage, which could be key in a series that looks like a toss-up.
WESTERN CONFERENCE
1) Golden State Warriors (67-15) / 8) New Orleans Pelicans (45-37)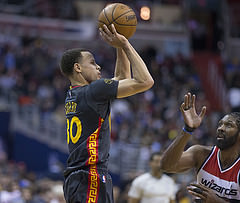 The Warriors were the NBA's best team in the regular season. Golden State features the league's second-best offense (by a hair), the league's best defense, and the likely Most Valuable Player in point guard Stephen Curry. The Warriors are heavy favorites against superstar power forward Anthony Davis and his Pelicans, and they are also the trendy pick to win the NBA Finals.
2) Houston Rockets (56-26) / 7) Dallas Mavericks (50-32)
Former Arizona State Sun Devil James Harden is the leading man in Houston. The MVP candidate guided an injury-wracked Rockets team to its highest seed since 1994 – when it won the NBA title. Harden and former All-Star Dwight Howard will be tasked with slowing down Dirk Nowitzki, Rajon Rondo and an upset-minded group of veterans in Dallas. This inter-state series could go the full seven games, but Harden alone is the ultimate trump card.
3) Los Angeles Clippers (56-26) / 6) San Antonio Spurs (55-27)
The reigning NBA champions won 55 games…and finished sixth in the West. The Spurs will travel to Los Angeles to face a Clippers team desperate for a long postseason run. This year may be their best shot yet. The Clippers' explosive offense will have to carry them against the most experienced team in the field. But San Antonio also boasts remarkable balance and depth – the latter has been a sore spot for Los Angeles all season. Back the Spurs to pull off the "upset" and possibly make another run to the conference finals.
4) Portland Trail Blazers (51-31) / 5) Memphis Grizzlies (55-27)
Here's a series with two banged-up teams that, if healthy, can challenge for the West crown. Portland's All-Star duo of power forward LaMarcus Aldridge and point guard Damian Lillard would be great…if Aldridge didn't have a torn ligament in his left thumb. Furthermore, the Blazers will be without three-point specialists Arron Afflalo and Wesley Matthews, although the former could return during the series. Meanwhile, Memphis could be without point guard Mike Conley and defensive stalwart Tony Allen for multiple games. But while Portland won the Northwest Division, Memphis' superior record guarantees home court advantage. As long as big men Marc Gasol and Zach Randolph are on the floor, the Grizzlies will fancy their chances.