Jamie xx delights raucous Marquee Theatre crowd
The London-based DJ thrilled his audience Wednesday night with an unflagging two-hour set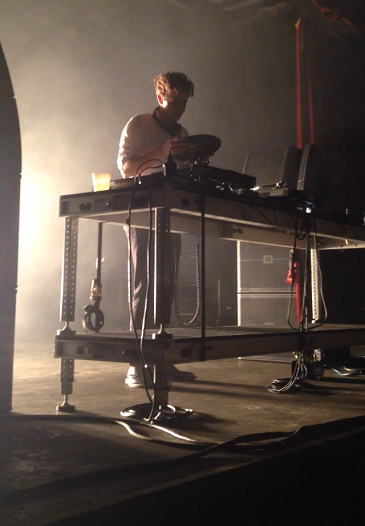 Jamie Smith, known more familiarly as Jamie xx, conjured countless emotions within his adoring fans at Tempe's Marquee Theatre on Wednesday night – all without speaking one word.
The English DJ, producer and remix artist currently is touring in support of his debut album "In Colour." The album has received rave reviews from music critics and expands upon his work with the xx, the group in which he rose to prominence. Smith's minimalist beats dominated the trio's albums "xx" and "Coexist" and displayed his proclivity for crafting spare dream-pop landscapes. However, it always seemed as if Smith had more up his sleeve.
"In Colour" reveals the full range of Smith's talents. The album contains manic, bass-driven dance tracks ("Gosh"), pulsating breakbeats melded with hushed vocals ("SeeSaw," "Loud Places") and the anthemic "I Know There's Gonna Be (Good Times)." The latter features Atlanta-based rapper Young Thug and samples the Persuasions, a Brooklyn-based a cappella quintet formed in the 1960's.
Smith walked onstage Wednesday night with a simple smile and wave. However, throughout his two-hour production, Smith presented a dossier filled with funk, house, pop and soul files. Standing over two turntables and a mixer, Smith repeatedly tore down beats and rebuilt them from the ground up while plucking from a trusty box of vinyl records stationed on a table to his right. Smith extracted some of the compositions in this non-stop soundscape from "In Colour," while other portions seemed improvised or conceived based on feel. He effortlessly created a dizzying, energetic atmosphere.
For artists like Smith, that atmosphere is essential. Electronic dance music concerts are presented in a non-traditional fashion. These shows eschew the conventional setlist and go on uninterrupted. EDM succeeds in person only when the artist connects with the audience on an emotional level. It was not "live," and Smith was not "performing" in the standard sense – but his show worked because he successfully merged his skills with his audience's emotions and needs, keeping them locked in for two hours without typical instruments.
Smith and his fans were clearly passionate about the music, but they demonstrated it in different ways. The Marquee audience danced and jumped around to his multi-tiered grooves. Smith, on the other hand, was more stoic. He simply tapped his foot or swayed in rhythm while he constructed or deconstructed a monolithic beat. It was fascinating to see how the music moved everyone involved and how they expressed it.
When Smith was finished, he gave his thanks with a wave of his hand and walked offstage. His "hello" and "goodbye" were simple, but the grooves he shared were anything but that.