First female NFL coach makes an impact
Jen Welter has made her mark on the 3-0 Cardinals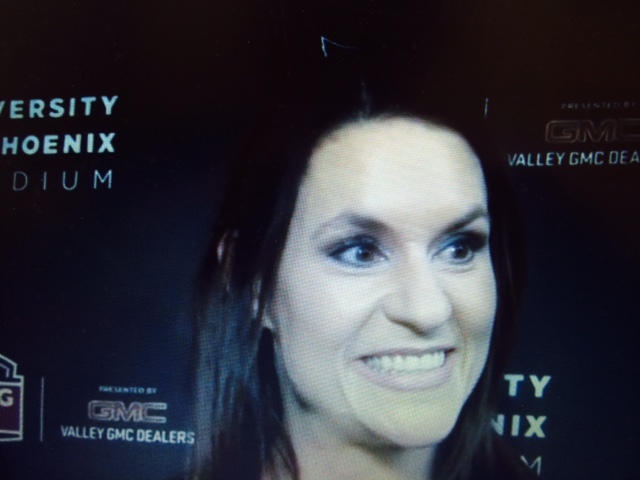 Nicholas Tirella and James Kobolt, Sports Editor, Reporter
October 1, 2015
The sports world has taken large steps to ensure equality for women, but none larger than the Arizona Cardinals' hiring of assistant inside linebacker coach intern Jen Welter.  
Welter is the first female coach in NFL history. The NFL was founded in 1920 and did not have a female coach in its previous 94 years.  New assistant coach intern Welter and the Cardinals have now taken a huge step in changing the way people see football.
Coaching interns in the NFL get hired constantly with no publicity, but this intern was going to make history. Prior to the Cardinals, Welter became the first female coach in the Indoor Football League. She coached linebackers and special teams with the IFL team Texas Revolution as well as playing running back for them in 2014. According to ESPN reporter Josh Weinfuss, most of her playing years were with the Women's Football Alliance team Dallas Diamonds, where she spent 14 years. Cardinals head coach Bruce Arians has praised her knowledge of the game, her leadership and her work ethic.
Welter is breaking down barriers and paving the way for women to have the opportunity to coach in the NFL. Many people thought that players and coaches would not respect her and that she would not last in an NFL locker room.
According to Cardinals beat writer Bob McManaman, Welter brings a new element to the locker room. Third-year linebacker Kevin Minter told McManaman that Welter tucked notes for the players in their lockers before the first two preseason games. What those notes said to the players left an impact on them.
'I believe in you,' I've never seen anything like that before, in that way, in that sentiment," Minter said. "Coaches will tell you that in their own way but with a lot more cuss words in it and they tell it to your face. It's a different tone, manly-manly kind of stuff. Everybody thinks football players always have to be tough and hear it rough but you can definitely send a message the way she did."
Welter's notes also say to the players to step into leadership roles, command the huddle and be the guy everybody knows they can be.
When asked during her internship if she was worried about being respected by the players and coaches, she stated that once they see her knowledge and passion of the game that she would be as respected as any other coach.
Former NFL quarterback and current sports radio host Dan Manucci is impressed with the hire the Cardinals made.
"I think it is great that a woman was finally hired to coach in the NFL, especially one with her knowledge and football experience," Manucci said. "The players may have been skeptical at first but once they saw her enthusiasm and football savvy, I think the players probably treated her the same as any other coach, with great respect."
The Cardinals' hire of Welter sends a statement to the rest of the league that football is becoming a universal game.