SCC welcomes Mike McNally as new Athletic Director
McNally brings a wealth of experience and a fresh attitude to the role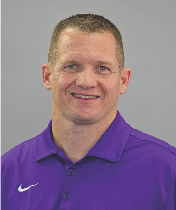 Ole Olafson, Reporter, Scottsdale Chronicle
October 4, 2015
On Aug. 10, Mike McNally took over as Athletic Director at SCC. He brings with him a wealth of knowledge and experience in both collegiate and professional athletics.  McNally was an Assistant Athletic Director at Grand Canyon University before coming to SCC.  He has also worked for both the Arizona Diamondbacks and the Pittsburgh Pirates, where he was involved in opening the Diamondbacks' Bank One Ballpark as well as PNC Park in Pittsburgh, PA. McNally decided to leave his career in media relations with MLB to explore a more diverse occupation in collegiate sports administration.
"It was always something I was interested in doing," McNally said. "Exploring a different side of athletics and moving in that direction."
McNally's hometown is Barre, Vermont, also known as the "Granite Center of the World."  It is where McNally grew up playing baseball.
"Baseball was always my passion growing up as a kid,"  McNally said.
He attended Spaulding High School, where he played football and lacrosse during the school year.  McNally married his high school sweetheart and the couple has two kids.
His time at GCU helped him prepare for this job by giving him a chance to administer sports programs while overseeing media relations.
"It was a great learning experience for me,"  McNally said.  "It was transitioning my career from where I started from the media relations side, into a more administrative role."
Even though McNally has only been here a few weeks, he has identified and begun to work on some areas that require immediate attention. Student athlete academic programs are high on his list of priorities.  
His goal with these programs is to help student athletes excel not only at SCC but also after they transfer to a four-year institution. He's also working on merchandising the "athletic Artie" logo more aggressively.  This would make it easier for students as well as community members to show their support for SCC athletics and bring funds into the program.  Budget evaluation and analysis, prioritizing needs and fund raising exploration are all issues that the new AD is tackling in the short term.
McNally also has a long-term vision for SCC to be an academic institution for athletics.  
"When people think of us, when they come here, they know that we're providing a great academic experience across the board," McNally said.
On the athletics side, generating the resources needed to help our coaches continue to lead successful programs will be crucial to the long-term success of the department, in McNally's opinion.
If you would like to welcome McNally and wish him luck, you can stop by his office in the Athletics Building or contact him at 480-423-6616.