Zack Greinke signs massive deal with Diamondbacks
The Arizona Diamondbacks made the splash of the offseason by signing pitcher Zack Greinke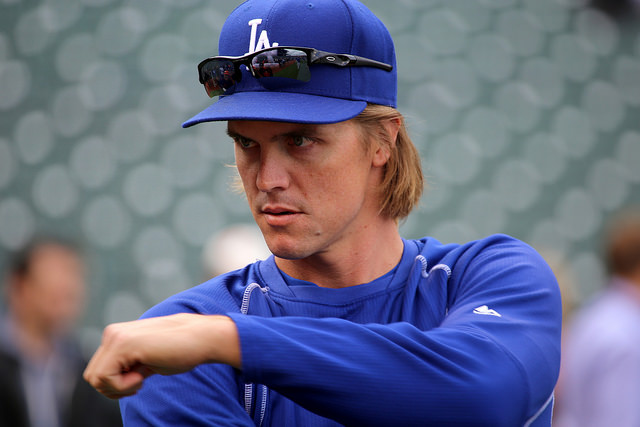 Karsen Mitsche, Reporter, Scottsdale Chronicle
December 5, 2015
According to Fox Sports baseball insider Ken Rosenthal, the Arizona Diamondbacks have signed starting pitcher Zack Greinke to a six year deal worth $206.5 million.
Greinke, who spent the past three seasons with the Los Angeles Dodgers, will earn more than $34 million per year, beating the annual average earned by Detroit Tigers first baseman Miguel Cabrera and Boston Red Sox pitcher David Price by more than $3 million. This deal blows away the team's previous record contract, which was handed out to Yasmany Tomás. Tomás signed a 6 year, $68.5 million deal earlier this year. It is also arguably the team's biggest free agent acquisition since Randy Johnson signed on in 1999.
The move came as a shock to the baseball world, as the D-backs were not rumored to be in the running for the righthander or any of the upper-tier starting pitchers for that matter.
"The Diamondbacks ideally want to add two starting pitchers, but do not expect to play at the top of the market," Rosenthal said last month. "The D-backs would prefer a free agent in the $15 million to $18 million range, and perhaps another starter in a trade."
This move fills the D-backs' biggest need heading into winter. The 32-year-old Greinke, who won 19 games with a 1.66 earned run average and 200 strikeouts in 2015, now joins a pitching staff that finished 16th in the majors with a 4.04 ERA last season. With Greinke and hopefully a full season of lefthander Patrick Corbin next year, the D-backs may improve upon that mark greatly in 2016.
With the upgrade to the pitching staff, the D-backs have now put themselves squarely in the race for the National League West title. The offense, led by MVP runner-up Paul Goldschmidt and All-Star outfielder A.J. Pollock, finished eighth in all of baseball in runs scored in 2015. This move also takes Greinke away from the Dodgers and the San Francisco Giants in the NL West, both of whom were rumored to be in the running for the 2009 American League Cy Young Award winner.
Expectations are now raised for the 2016 D-backs. With the signing of Greinke comes the loss of the 13th overall draft pick, as well as an inflated payroll. If the D-backs are not able to put together a run to the postseason, the pressure will start to mount for an organization that has finished with a record above .500 only once in the past seven years.