FBI cracks down on animal abuse
Animal cruelty is now recognized as a class A felony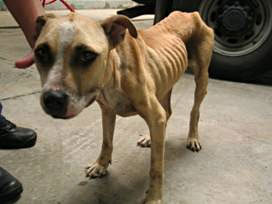 Licia Torres, Reporter, Scottsdale Chronicle
February 22, 2016
  Animal abuse in Arizona is no longer grouped under an "All Other Offenses" category, as the big dogs at the FBI are now enforcing acts of cruelty against animals as a class A felony.
  Michael Morefield, Communications Manager at the Arizona Animal Welfare League, believes that the new stipulations are a positive move in keeping animals protected from abuse.
  "I think this law will help us start learning about the patterns of abuse," Morefield said. "This will allow them [FBI] to find the neighborhoods with high cases of animal abuse."
  "I think for years this has been a problem," Phoenix dog owner Ryan Bell said. "I think it's been publicized a lot more lately with the start of Michael Vick and trying to make an example out of him."
  The National Incident Based Reporting system began entering data on Jan. 1, 2016. The FBI uses this public database to keep track of national crimes, which of course includes Arizona, according to the feds.
  "The data will allow people to have solutions and policing patterns of abuse in areas," Morefield said. "It will try and stop abuse before it happens."
  "It's good to break it down [abuse categories] because the levels are bearing," Bell said. "Serial killers start out on animals, that's been proven and researched over and over again."
  Arizona law states that animal abusers face harsh penalties depending on the category. Some of the penalties include fines up to $2,500 and/or jail for 6 months. Killing or harming an animal has fines up to $150,000 and/or a year and a half of imprisonment.
  "The categories will enable better focus on what type of abuse is happening," Morefield said. "It's really important and well make a positive impact on animal welfare in the future."
  "The tracking of animal crimes by the FBI is a great step forward and an understanding toward animal cruelty in trends and how it may lead to other crimes," Arizona Humane Society spokesperson Bretta Nelson said.