Deftones 'Gore' Review
Deftones' return with the violently hypnotic "Gore"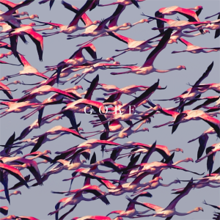 Cody Achin, Columnist, Scottsdale Chronicle
April 27, 2016
Since Deftones' release of their debut album Adrenaline in 1995, Deftones have created a unique sound for themselves. They separated themselves from the Nu-Metal phase during the late 90's and early 2000's, creating music that doesn't compare to any other. Hearing any one of their tunes will give off a distinct "Deftones" feel and can instantly be recognized by many.
With 21 years of experience within the music industry, the challenge becomes quite apparent. How does a band stay relevant when the top selling albums of 2015, according to Billboard were Adele's 25, Taylor Swift's 1989, and Justin Biebers' Purpose? It's safe to assume that the alt. rockers Deftones would be a bit disenfranchised.
However, Deftones seem to have an answer as their newest album, Gore, strikes all the right chords. They retain their powerful, distorted sound while giving Stephen Carpenter (guitar) more freedom to experiment throughout the tracks. Chino Moreno's voice still resonates with the music and even creates ambiance within each song. Let's dive deeper into Gore and explore all it has to offer.
Gore takes elements from the past albums and puts a fresh spin on them. Deftones have gradually shifted their style from album to album. Partially due to the departure of Chi Cheng, their original bassist, despite their sound having already shifted severely towards a "Showgaze" type sound, prior to Cheng's leaving. With heavy, slow melodic riffs starting off the song, then capturing the listener into a usually incredible hook. This technique is still here in Gore, many songs on this album have awesome hooks, good choruses, and unusual bridges. It all works together though.  As each song is a different attitude than the last.
In terms of tone; each song takes you from "A" to "B" with various tempos acting in sync with audible proficiency, carrying you into unfamiliar and different territories. The main thing that is different here in Gore is the "sharper" tone of Carpenter's guitar in the album.
In many of their past albums the guitar usually has this simple tune to carry and Carpenter played flawlessly. Carpenter never strayed from the typical path of the song though and there wasn't any single notes being played in tandem either. In Gore this changes. The easiest way to understand is taking a listen to the song "Phantom Bride," right in the beginning we hear an unusual start up to any Deftones song to date. The guitar starts the song off with a slow almost arpeggio like riff. It's simple and awesome, but different for Deftones. Another major thing about this song is that there is an actual guitar solo! To me, this was the best thing to hear coming from a new Deftones album. A change in pace within their usual style of music.
There are plenty of other times where the guitar shines throughout the song as well. "Geometric Headdress," and "Xenon," are excellent examples of the guitar going into a territory not yet seen for Deftones. Of course, the whole album has a complexity only matched by their last album. Deftones are masters at creating songs that require multiple listens to really appreciate what they have to offer. Every time I listened to Gore, I found myself finding a new thing to love about each song. Gore is simply another masterpiece from Deftones. I honestly didn't think that nothing could out beat their last album, "Koi No Yokan." But Deftones proved me wrong and I couldn't be happier with that.
If there was any complaints that I have with this album is that often times while listening to the album, I tend to drift off in my own thoughts. When this happens, I forgot I was listening to Gore and had to repeat the song to listen to it again. Gore has an ambiance that creates a sense of "zoning out," it's hard to explain. With all the noise that Deftones makes it sounds impossible to drift out while listening to them, but it happened quite a few times with this album. It's strange because it only happened with this album. Aside from that, the album is simply brilliant.
Deftones has been around awhile. They've matured as musicians and their music has matured with them. Many groups lucky to experience a continued success like Deftones tend to either alter their music drastically to the dismay of their fans or resist change which may be just as detrimental. Deftones is like a fine wine, they just get better with age. They are one of the few bands still around that can show the younger bands how to do things. They garner new fans with the newer releases and cater to the older fans with their amazing dedication to making great music. The thing that really surprised me though is that at the time of this writing, Gore is sitting at the number two spot for the week of April 30 on the Top 200 Albums from Billboard's. This warms my heart, because rock as a genre is loosely defined now and days. What I consider rock might be different than what millennials think of as rock. Deftones is hard to exactly pin point what genre they are, but they are definitely within the rock category.
I highly recommend Gore to anybody looking for an awesome record to dig deep into. To listen to every sound the band has to offer. To listen to the complexity within each song. Gore is another masterpiece in my book.
                                                          Final Verdict
                                                      9/10