Colleagues honor Diamondbacks legend
In light of #CelebrateJoeG night at Chase Field on May 16, NEVN presents a special tribute to Joe Garagiola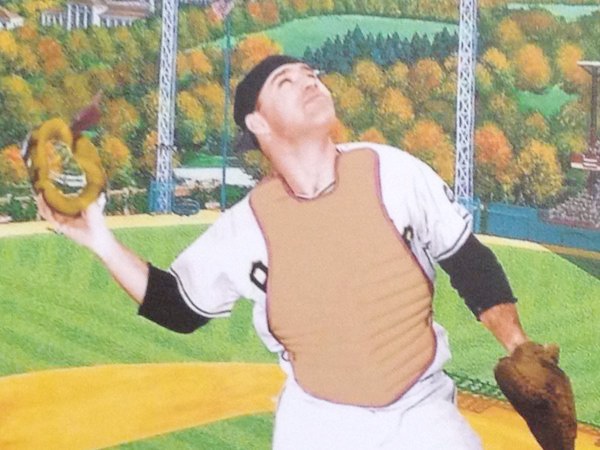 Joe Garagiola Sr. was born on February 12, 1926 in St. Louis, Missouri. He grew up on what was locally known as "the Hill" next to Baseball Hall of Famer Yogi Berra.
"Not only was I not the best catcher in the major leagues, I wasn't even the best catcher on my street," Garagiola once pithily remarked.
Interestingly, when Berra and Garagiola were both being scouted as teenagers, nearly all pro scouts rated Garagiola as the better baseball prospect, according to a biography on Baseball Page. And while Garagiola had a decent career in Major League Baseball – playing nine seasons with a .257 batting average and a World Series championship with his hometown St. Louis Cardinals in 1946 – the breadth of his achievements cannot be reduced to his contributions on the diamond.
An outpouring of tributes occurred when Garagiola died in Scottsdale on March 23. MLB commissioner Rob Manfred praised his "illustrious career" that began as a baseball player but eventually reached audiences far and wide.
"Joe began an illustrious career as a baseball player, but it wasn't long before everyone knew that this unique individual would combine his multi-talented media skills and wonderful personality to make a mark off the field as well," Manfred said in a statement.
Garagiola played baseball, announced baseball, breathed the game of baseball. He also helped get the Diamondbacks to Arizona beginning in the late 1980's. But Garagiola also was an author, with three books to his name. He worked three decades in the broadcast booth calling baseball games for NBC and won the prestigious Ford Frick Award for excellence in baseball broadcasting in 1991. His quick wit and good humor made him an eminently popular host of a variety of television shows – he hosted game shows such as "He Said, She Said" and "Sale of the Century" and even co-hosted USA Network's coverage of the Westminster Kennel Club Dog Show from 1994 to 2002. His further work as a presenter also included the "Today" show and the "Tonight" show.
"He touched so many different genres and generations," Fox Sports Arizona broadcaster Todd Walsh said. "He was the soundtrack of many generations of Americans."
Walsh knew Garagiola well and was honored to call him a friend. The two first met when Walsh worked at 620 KTAR, co-hosting "Sportsline" with Jude LaCava. LaCava, now at Fox 10, also was a friend of Garagiola's and believes his ambition and adaptability blazed a new trail for broadcasting.
"He broke the ceiling when it comes to jocks doing broadcasting," LaCava said. "He was so versatile, he could do the 'Today' show, he could do the 'Tonight' show."
Walsh also spoke to this versatility and remarked that Garagiola had become a local legend by the end of his television career, but in between he was a national and international presence.
"He had 'The Baseball World of Joe Garagiola,' which was longform television," Walsh said. "If you can imagine baseball being appointment television on Saturday afternoons at one o'clock, and that's the only time you'd see it, if you can think of it that way."
Garagiola's respectable career with four teams in MLB ended in 1954 as a member of the New York Giants, and in 1961, he made the move upstairs to start his broadcasting career. He worked alongside fellow NBC commentators Curt Gowdy, Tony Kubek and later Bob Costas on the network's "Game of the Week." Upon leaving NBC in 1988, Garagiola became a commentator for the California Angels and Arizona Diamondbacks until retiring in 2013. True to Garagiola's reputation as a pioneer, baseball in the desert may not have been possible if not for his efforts.
"He stands in front of the first efforts to get Major League Baseball to Arizona, in the late '80's there was a referendum on the ballot and he was out in front of it trying to get a stadium, a tax," Walsh said. "But he was the first one standing in front of that."
Garagiola was a member of the Diamondbacks' original broadcast team and his son, Joe Garagiola Jr., was the first general manager of the Diamondbacks from 1997 to 2005. As such, Joe Jr. played a major role in building the veteran team that won the 2001 World Series in just its fourth year of existence.
"My lasting moment of the 2001 World Series is with Joe, ironically," Walsh recalled. "I was interviewing Joe [after Game 7] and [former Diamondbacks player and current first base coach] Mark Grace came on after they won the World Series and doused Joe with champagne and rubbed it on his head. And Joe took over the interview, and he interviewed Mark for three or four minutes and I just stood there. And I turned to the host and said 'that's the best interview I never did.'"
However, Garagiola's contributions to the broadcasting medium were not limited to baseball.
"He touched so many different lives," Walsh said. "He was on primetime television, celebrity roasts that were a big thing in the '70's, sitting at Johnny Carson's [former host of "Tonight"] desk not just as a guest but as the host. He was playing every card in the deck."
Garagiola's passion emerged through his stance against chewing tobacco usage in MLB and through his advocacy of Native American interests. In particular, Garagiola chronicled the work of St. Peter's Mission with Pima Native Americans in "Arizona Mission Helps Pima Indians," a segment from the June 9, 1997 episode of "Today."
"This was once the mineral-rich farmland of the Gila river," Garagiola reported. "After the Civil War, Anglo farmers diverted the water. Without farming, poverty and disease came to the Pimas. They now have the highest rate of diabetes in the world. Combined with the ravaging effects of alcoholism, it means a life expectancy of 53 for men and 61 for women. The nuns have a goal here to fight diabetes and obesity with activity. The kids must walk or run for a mile before breakfast every morning."
Garagiola was a very caring man, always willing to help those he was close to, as seen through a story LaCava related. LaCava's father Carl was heading into bypass surgery in Cleveland when Jude asked if Garagiola would give his dad a call and offer some words of support.
"Joe gave my dad a call," LaCava said. "'Carl, it's Joe Garagiola.' And my dad said 'yeah, right' and hung up the phone. So Joe called him back – 'Carl, I really am Joe Garagiola.' They went on to have a great conversation."
Garagiola lived a breathtaking amount of life. He explored avenue after avenue and consistently found new ways to enchant and excite his audience. He was a modern-day Renaissance man, but also a common man, one who could connect with any audience. There may never be another like him.
Garagiola was 90 years old.