SCC disability services help students through technology
From smart pens to reading assistance programs, Scottsdale Community College is helping its disabled students thrive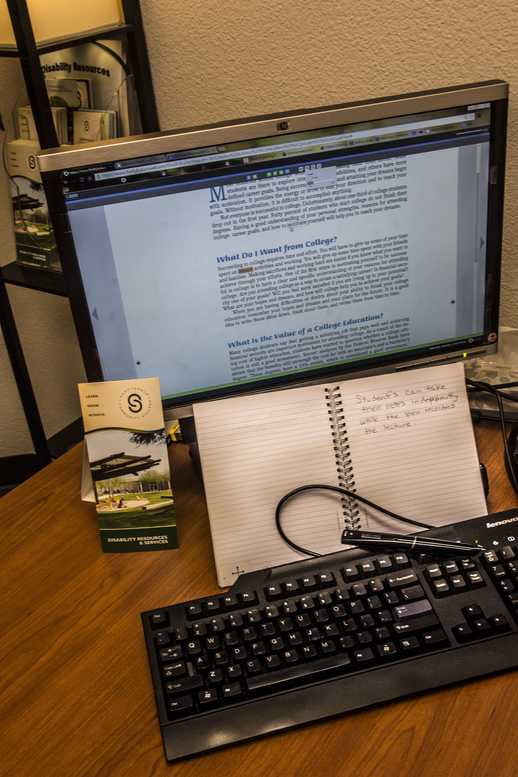 Zach McCook, Reporter, Scottsdale Chronicle
September 27, 2016
Being a student with a disability comes with many challenges. Fortunately for disabled students at Scottsdale Community College, the Disability Resources Services provides resources throughout the Maricopa District to help students with disabilities be successful.
Phyllis Jones is the Director of SCC's Resource center. She said DRS Connect is a resource database that not only is used at SCC but at all 10 Maricopa County community colleges.
"Everything is a paperless seamless transition between campuses. Resources are provided to help students to be more independent by giving them the technology to compensate their needs," Jones said.
An example of this technology is livescribe pens to help disabled students be more independent and take their own notes.
Jones also said that the resources are the same on all campuses.
Frank (who does not want to be identified by last name) is an SCC student who is happy about the fact that he has the opportunity to use a smart pen. He has also benefited from the Disability Resource Services program on campus.
"I would not be able to be in my classes without their help," Frank said.
The teachers receive emails from the DRS office about the accommodations and needs of the students so that teachers have a better understanding of the students.
Isabel Romero, a student at SCC, says that tutors are a great resource for passing all of her classes.  Without them, she would not be able to pass all her classes.
"Disability Resource Services don't need any improvement," Romero said.
If you are a student looking for resources to help get through school, it is easy to get yourself started with  your accommodations. Students at SCC can contact Phyllis Jones at 480-423-6517 or visit the office in the Student Life Building, room #S125.  Be prepared to show medical or school ID for verification.