Human trafficking crisis increases in profile
The continued prevalence of human trafficking raises questions as to whether or not slavery has really ended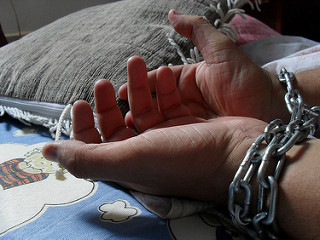 Every year, thousands of men, women and children fall into the hands of traffickers in their own countries or abroad. Almost every country in the world is affected by trafficking, whether as a country of origin, transit or the destination of victims. Also called "the modern day slavery," human trafficking occurs when people are transported or transferred against their will, from one place to another, from one country to another, for the purpose of exploitation – which can be sex trafficking or labor trafficking.
Myanmar, Sudan and Haiti are currently among the worst offenders for human trafficking, according to a new report published in 2016 by the U.S. State Department. These three nations were among 27 to be downgraded in this year's annual Trafficking in Persons.
In 2016, human trafficking in the United States rose 35.7 percent from the previous year, according to data from the National Human Trafficking Hotline. California was the No.1 state with 1,323 cases followed by Texas with 670 and Florida with 550. All three states reported an increase in trafficking crimes.
Two Humphrey scholarship fellows based at the University of Minnesota, Nodira Odinaeva from Tajikistan and Floro Balato Jr. from the Philippines, helped enrich SCC students' understanding of the issue and gain a new perspective on the coordinated global efforts to end human trafficking. 
Odinaeva is the Project Assistant for the International Organization for Migration in counter trafficking programs in Tajikistan.
"Tajikistan is a source, it's a destination country for women, children and men subject to labor exploitation and to sex trafficking," Odinaeva said. "Extent of economic migration exposes women, children and men to exploitation trafficking and subject to labor trafficking, primarily in the Russian Federation, United States and less existence in central Asian countries such as Kazakhstan. So in [the] Russian Federation, now we have about one million Tajik labor migrants working in Russia but since 2015, the number was decreased."
Odinaeva explained how Tajik people moving to Russia are undocumented, which opens them up to various forms of exploitation.
"Tajik people who were moving to Russia come from low income families and upon their arrival in Russia, they find themselves desperate because they don't have money or time to spend for their registration to get the work and residency permit done," she said. "These type of undocumented migrants are exposed for exploitation by construction and agriculture in Russia. Some companies make them work for 10-16 hours a day and they pay them minimum wages; they don't provide them good conditions, they provide them poor housing, one meal per day. But in some cases, Tajik citizens are involved in trafficking as well because sometimes the companies work through intermediaries who happened to be Tajik citizens." 
Odinaeva explained that these companies promise good jobs and wages, but the employee only receives half the salary, which is not enough to live on. She further delved into how the International Organization for Migration works with local police and the national government to curb trafficking.
"This International Organization for Migration is working with police and government and our first contact point is ministry of interior in Tajikistan, which oversees the police department in [the] whole [of] Tajikistan. We help them to build capacities by providing them a prosecution, how to combat and prevent human trafficking. We also help them develop laws and regulations…we also trained more than 2,000 employees from law enforcement agencies including police, customs, officers from anti-corruption and drug agencies and also health centers, especially students, teachers and we also created shelters for victims' protection in Tajikistan."
Floro Balato is a lawyer and a senior immigration officer in the Philippines. Balato spoke about strict legal measures adopted in the Philippines to fight against human trafficking.
"The four pillars to combat this issue are prevention…the method used is the disruption of transportation in the Philippines, from one border to another," Balato said. "The second pillar is hitting hard the trafficking syndicate by prosecuting offenders, and laws are enacted by other countries to banish trafficking offenders in the Philippines. In order to highlight the prosecution of offenders, great penalties are provided.
Another way to combat this problem is to rescue and assist the victims, make sure they are protected. So we have the Department of Social Development helping, coaching and counseling them. The last method to address this issue is through partnerships. This is a very complex and transnational problem, so we have established a partnership and cooperation with a lot of countries, law enforcement agencies, non-profit organizations and other advocates to fight against human trafficking," Balato said.